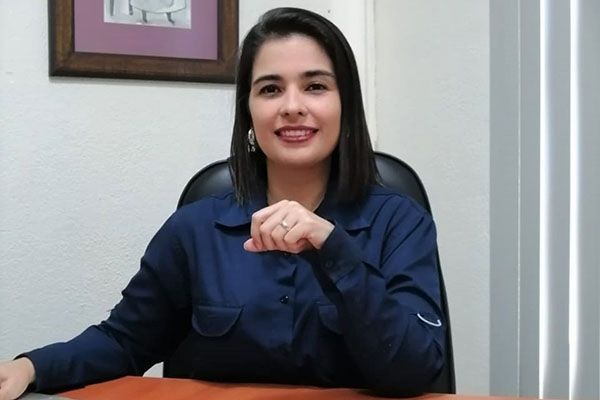 Alejandra "Ale" Polanco-Montoya leads the human resources department for one of the largest family-owned produce companies in Central America, a professional accomplishment that she credits her alma mater, University of the Ozarks, for helping her achieve.
Originally from Honduras, Polanco-Montoya is a 2005 management and economics honors graduate and former Walton Scholar at Ozarks. She currently serves as the director of human resources for Palo Blanco S.A., a company of more than 3,500 people in Guatemala that produces and exports bananas, plantains, avocados, coffee, guacamole and rubber to more than a dozen countries around the world.
Since graduating from Ozarks, Polanco-Montoya has steadily climbed the corporate ladder in Central America, starting as a project coordinator for Toyota in Honduras and quickly being promoted to administrative manager for the northern region.
"I was in charge of the whole operation, and it was quite an experience and a challenge as I was asked to lead it as a young woman of 22 in an industry mainly made up of men," she said. "We worked as a team, and implemented certain projects that resulted in increase in sales and cost reduction."
Polanco-Montoya then moved to the Dole Food Company as a learning and development coordinator before being promoted to human resources superintendent. That move prompted her to earn a master's degree in human resources from Universidad Europea Miguel de Cervantes in Spain.
"Once I got into HR, that's when I fell in love with it," she said. "I just enjoy working with and helping people and that's what HR is all about."
Polanco-Montoya and her family moved to Guatemala in 2014 after her husband got transferred there with his job to develop new farms for Dole. She quickly found a job in one of the largest sugar mill companies in Latin America, Ingenio Magdalena, and was promoted to human resources manager within five months on the job. This eventually led to her position with Palo Blanco.
At Palo Blanco, she oversees areas such as organizational structure, culture, learning and development, recruitment, labor affairs, corporate social responsibility, compensation and benefits, and the administration of employee services such as transportation, health services, elementary school and housing. The company houses almost 1,000 workers in company-owned neighborhoods and housing developments.
"This is definitely the most dynamic and fulfilling job I have had, and I enjoy it so much," Polanco-Montoya said. "It is true that when you love your job and you have a great team, it does not feel like work."
An area that has special meaning to Polanco-Montoya is the company's social responsibility program that she manages.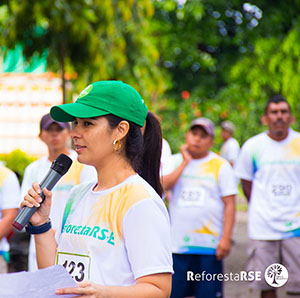 "The program has two main pillars: social well-being and the environment," she said. "In a normal year, we are focused on helping our employees and the communities where we operate. Due to the Covid-19 pandemic, the company decided to put our energy into helping families that have been affected. As part of our program, we are providing bananas and plantains to many families and different non-government organizations (NGOs), as well as working with local governments and health authorities. Helping and making a difference for a person in need is a responsibility we all carry."
Giving back to her community is a value that Polanco-Montoya says stems from her time as a Walton Scholar at Ozarks.
"Central American countries face enormous challenges," she said. "My country, Honduras, is one of the most beautiful ones in the world, with enormous potential. Guatemala, my current home and second in my heart, is also a wonderful country, with so much to give. However, these countries have been hit by so much corruption, poverty and other challenges. These countries are in need of professionals to help make a difference, whether it be in the business world, government, NGOs or other areas. As a recipient of the Walton Scholarship, I made a commitment to be that change agent. Sam and Helen Walton were visionaries and saw that they could help start that change by providing high value education to students who could help make that difference in these countries. I have no doubt that they have contributed to making that change through the different Walton alumni throughout Central America."
Polanco-Montoya said she often thinks about her Ozarks education and how it has impacted her career and life.
"I think of U of O and I smile. I had the best college experience, the best professors, and the opportunity to live in a different country, culture, and traditions," she said. "U of O is a great institution and, without a doubt, helped shape my career. It helped turn me into the professional I am today. One of the classes that had an impact on me was Professor Cindy Lanphear´s organizational behavior class. I can still remember in our very first class, she said, 'Most people think management is about bossing people around, but they are wrong. Management is about leading people.' And at that moment, I knew I was in the right career path because I could identify with that. As the leader of a team, I have always tried to live by that example while helping develop people to their best version. I think that is the best legacy you can give someone."
Polanco-Montoya said receiving the Walton Scholarship to study at Ozarks "opened the world to me."
"It allowed me to grow and to become an independent woman," she said. "I received an incredible education and then was able to take that education back to Central America and help make a difference. That's the least I can do for the incredible opportunity I was given. My family and I will forever be grateful to the Walton family and, without a doubt, I wear the name in my heart always."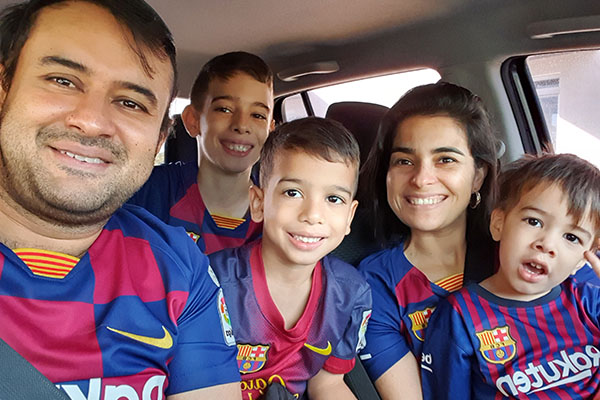 Polanco-Montoya and her husband of 13 years, Miguel, have three sons, Miguel Alejandro (12), Abraham José (6) and Ramón Andrés (3). Her parents, Carmen and Juan Ramón, live in Honduras, as well as her sister, Karla, and brother, Ramón.
"It's been an incredible journey and I can't thank the Walton family and U of O enough," she said. "I am and always will be a very proud Walton Scholar and U of O alumna."
Topics: About, Alumni, Business Administration, International