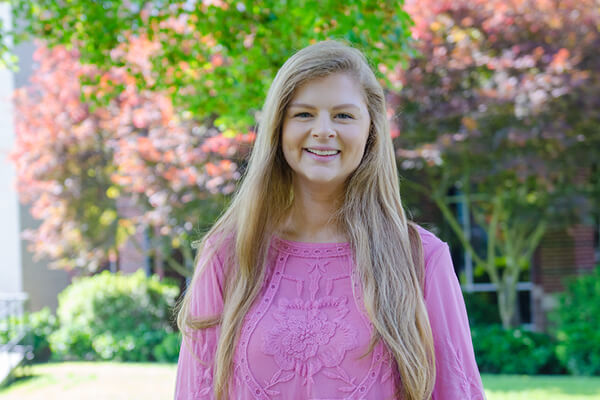 University of the Ozarks alumna Taylor Plugge, who has served in the Office of Admission since 2013, will transition into the director of student engagement position in the Office of Student Affairs, effective July 1.
A 2013 graduate of Ozarks, Plugge has been the assistant director of admission since 2017. As director of student engagement, she will lead the areas of student activities, new student orientation programs and student organizations.
"I am excited to be joining student affairs and working with a talented group of colleagues to build a student engagement program that is dynamic and inclusive," Plugge said. "My goal is to work with students, faculty and staff from across campus to create a vibrant student experience that contributes to student success, retention and to the University's mission."
Plugge replaces Bendex Stevenson, who was named director of campus recreation in May.
"Taylor is an outstanding addition to the student affairs team," said Luke Morrill, dean of students. "She has spent her career at Ozarks directly impacting the undergraduate experience and developing meaningful connections with all the students she interacts with. As Taylor transitions into her new role, I have no doubt that she will bring the same student centered approach to developing a vibrant student engagement program."
As part of the admission staff, Plugge played an integral role in helping the University set record enrollments in each of the past three years.
Plugge said one of her priorities in leading student engagement is to support the integration of the University's growing international student population into the campus community.
"Ozarks has one of the most diverse small campuses in the region and that's part of what makes this University special," Plugge said. "Ozarks has a long history of embracing student diversity through values such as hospitality, justice and inclusion. I want to help continue that legacy through the student engagement office."
A native of Hartman, Arkansas, Plugge graduated from Ozarks with cum laude honors while earning a degree in economics. As a student at Ozarks she worked in the University's Advancement Office in a work-study capacity.
She and her fiancé, Aaron, have a 4-year-old daughter, Addison. Outside of work, Plugge enjoys hiking with her family, camping on the weekends, exploring the different state parks around Arkansas, and spending time on her family's farm.
Topics: About, Student Events, Student Life, Student Organizations