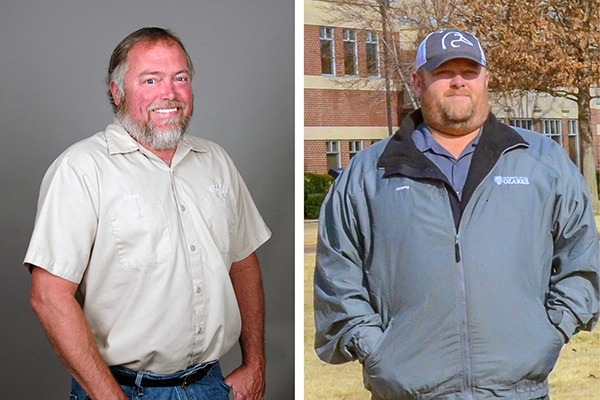 University of the Ozarks will move its physical plant operations in-house beginning June 1, 2020, University officials announced on Monday.
In a related move, the University announced that Donny Frost (pictured left) has been promoted to director of the physical plant and Jeremy Renfroe (right) will serve as the assistant director of the physical plant.
The physical plant operations have been under the direction of the National Management Resources of LaGrange, Ga., since June of 2016.
Twenty-one staff members are currently employed in the physical plant, which includes maintenance, grounds and housekeeping operations. The department will report to Gloria Arcia, vice president for finance and administration.
"We are grateful to the entire maintenance, grounds and housekeeping staff for their hard work in ensuring our campus is maintained, cleaned and sanitized as well as for their dedication to the University during these trying times," Arcia said. "We believe this move will provide the University with better control, oversight and improved efficiencies in our physical plant operations. It will also lead to our physical plant staff having more sense of community and connection with the University."
Frost has served as interim director of the physical plant since early January and has worked at the University since 2013. A 1992 graduate of Ozarks, Frost was named the recipient of the 2016 Broyles Outstanding Staff Award and the 2019 President Rick and Sheree Niece Above and Beyond Award.
Renfroe has served as a maintenance technician at Ozarks since 2016.
Topics: About