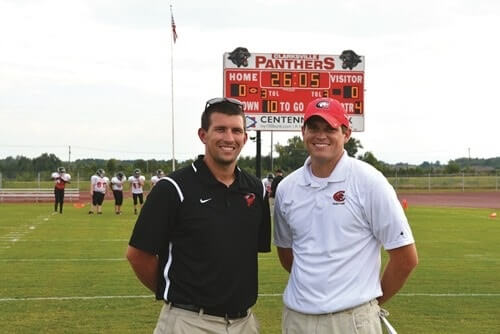 A hallmark of University of the Ozarks' Pat Walker Teacher Education program is the year-long student-teaching internship which each education major must complete before graduation. Nick Brill and Mitchell Powers, two Ozarks education majors who graduated in December, participated in physical education internships in area schools this past year.
Powers, from North Little Rock, Ark., completed his student-teaching with the Clarksville School District.
"I was in the junior high for half of my internship and in the primary (elementary) for the other half," said Powers, who graduated with Magna Cum Laude honors. "It was a great learning experience for me to get to see everything that is involved with every-day teaching."
Brill, from Siloam Springs, Ark., earned a minor in health sciences in addition to his physical education major. He also has plans to earn a coaching endorsement. He spent his year student-teaching in Russellville Middle School.
Physical Education majors and December 2013 graduates Mitchell Powers and Nick Brill credited the year-long student-teaching internships for preparing them for a career in teaching and coaching.
"I started in the spring semester and was able to observe 60 hours and teach a few lessons to help prepare myself for the entire semester of student-teaching," Brill explained. "This fall, I was able to student-teach every single day for 16 weeks. I also helped out with the 7th grade football team and the high school football team."
Powers and Brill, who were both all-conference baseball players during their time at Ozarks,  said spending so much time in the classroom re-affirmed their decisions to pursue a career in teaching and coaching.
"I enjoyed being in the classroom and helping students pursue a healthier lifestyle," Brill said. "I realized that the hard work and long hours that I put in outside the classroom and away from the field were made worth it in the classroom and on the field."
Powers agreed.  "I loved getting to work with the other teachers and coaches during the semester, and they gave me some great advice along the way," he said.
Both graduates credited the relationships with their Ozarks professors for being well-prepared to enter their respective classrooms.
"I think that the personal relationships I built with the professors in the education program have been most beneficial to me," Power said. "The professors at Ozarks taught me so much about what to expect in the classroom, but they also are just great individuals who made such a positive impact on me. I will carry that into my own classroom."
According to Brill, he felt better prepared than interns from other institutions who were working alongside him.
"Since I was at Russellville Middle School, there were a few interns from another institution and I could easily see that I was more prepared than they were," he said. "I could handle classroom management and discipline situations more successfully. I also felt like my lesson plans and lessons were more beneficial for the students. All this was made possible by the great education I received in Ozarks' education program."
As recent graduates, Brill and Powers highly recommend Ozarks' teacher education program and the invaluable professors who made such an impact in their lives.
"Any student interested in education should consider the education program at Ozarks, because there are no better professors you could choose," Powers said. "The one-on-one relationships and education you receive are indescribable and have ultimately shaped me into the person I am today," Powers said.
Brill also credited faculty members for helping him navigate through a college career that included a change of majors.
"The advisors that I had were more than willing to help me from my freshman year all the way to my senior year," he said. "I began my Ozarks career as a biology major, and my advisor helped me transition into the education as a freshman. As a senior, that same advisor helped me through job searching and is still doing everything he possibly can for me."
Topics: PE, Physical Education