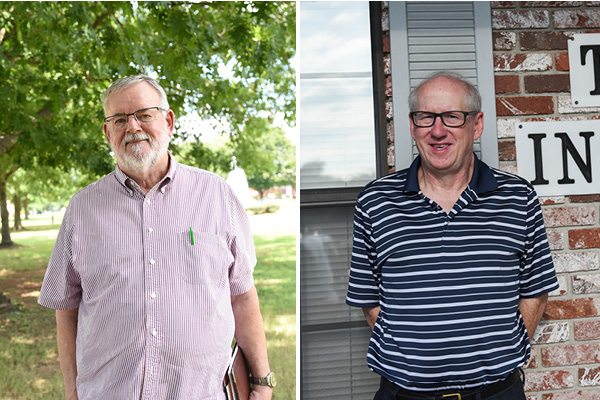 Clarksville natives Dr. Don Pennington '68 and Philip Taylor Jr. '85 will each be recognized by their alma mater, University of the Ozarks, with the prestigious Alumni Legacy Award during Homecoming 2022.
Pennington (pictured, left) and Taylor will be honored during the Ozarks Awards Ceremony on Friday, Oct. 21, as part of the University's annual Homecoming festivities.
The Alumni Legacy Award is presented in recognition of "an alumnus who has given unselfishly of his or her resources to support the University and its mission during his or her lifetime." This award is chosen by the University of the Ozarks' administration.
Pennington is a retired family physician. A 1963 graduate of Clarksville High School, Pennington served in the Arkansas National Guard from 1963-69 while attending then College of the Ozarks. He was named the University's Hurie Award recipient as the outstanding graduate in the Class of 1968. He went on to earn his medical degree from the University of Arkansas for Medical Sciences in 1972 and one year later became a founding partner, along with Dr. Jack Patterson '65 and two other physicians, of the Clarksville Medical Group. 
Pennington retired from family practice in 1998. He served as the organist for First Presbyterian Church from 1994 to 2007 and as a medical manager for a mental health clinic from 2003-2013. He has been a docent and fundraiser for the Johnson County Historical Society since 2013. He has also been active in the Lone Pine Rook Consortium and Social Club, the Arkansas Medical Society, the United Methodist Church, the Mountain Boomers Old-time String Band, and the Democratic Party. He has three children, Thomas Pennington, Aimee P. Sanders and John H. Pennington.  Both of his late parents, John Powers Pennington '30 and Verna (Harris) Pennington '31, are graduates of Ozark as is Don's uncle, Charles Pennington '30, and Don's brother, John P. Pennington, Jr. '66.
"I am a child of University of the Ozarks, so this award is special to me," said Pennington. "After my father graduated from C of O in 1930 and my mother in 1931, they were married by Dr. Wiley Lin Hurie, president of the college from 1923 to 1949. My parents, grandparents and I have always lived within three blocks of the campus."
Taylor Jr. '85 is the owner of Phil Taylor Insurance in Clarksville, a business his parents started in the early 1960s. A lifelong resident of Clarksville, Taylor graduated from Clarksville High School in 1981 before enrolling at what was then College of the Ozarks.  He majored in business administration at Ozarks while also serving as a student-worker in the athletic department. He was also president of the college's Phi Beta Lambda organization in 1984-85.
After graduating from Ozarks in 1985, Taylor began working with his parents at Phil Taylor Insurance. He previously served as president of the U of O Alumni Association and has been a long-time supporter of Eagles athletics. He has also been active in the community as a member of the Lions Club and as a board member with the Johnson County 4H Foundation, the Johnson County Community Foundation, the Arkansas Valley Electric Cooperative and the Panther Foundation.  He and his wife, Melody, have three children, Tegan, Bethany and Phillip III, and two grandchildren, Kaelynn (2) and Klara Beth (1). His late parents, Phil Taylor '54 and Joanne (Willett) Taylor '60, both graduated from Ozarks.
"My first association with Ozarks was as a young child going to basketball games with my father and that was very rewarding," Taylor said. "I was fortunate to be able to go to college there and to be involved with the athletic program. The small classes and the fact that the professors took an interest in me helped make Ozarks very special."