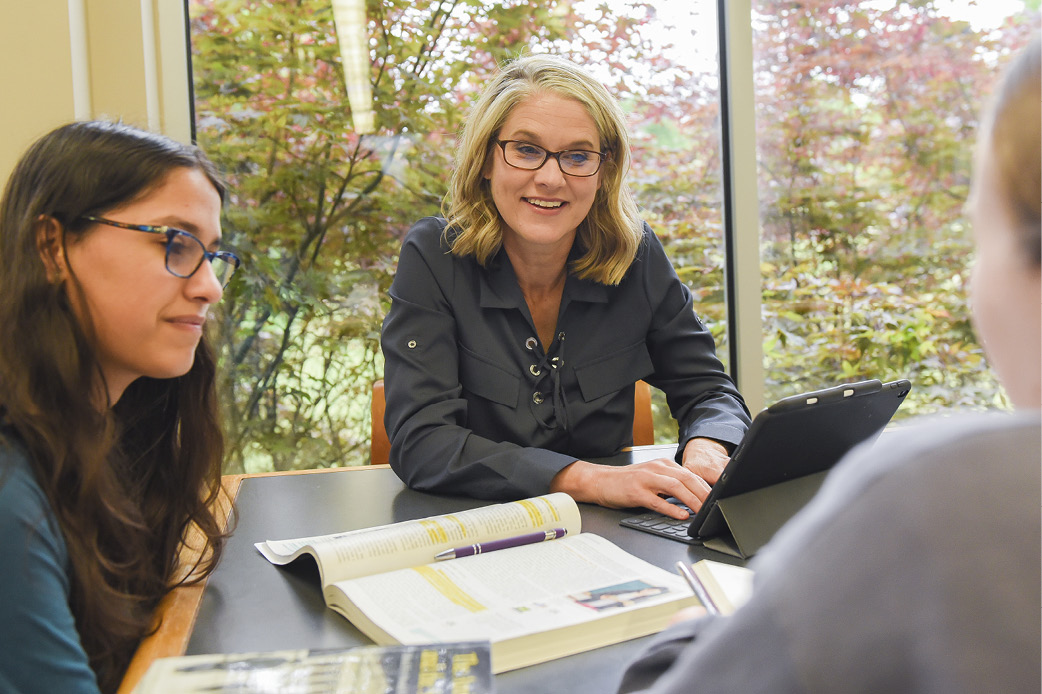 Dody Pelts, vice president for student success at University of the Ozarks, has been named an "Outstanding First-Year Students Advocate" by a national organization.
The National Resource Center for The First-Year Experience and Students in Transition, along with co-sponsor Cengage, recently named Pelts as one of 10 recipients across the country for its annual award that recognizes educators "involved in high-impact practices for first-year student success." Pelts will receive the award at the 42nd Annual Conference on The First-Year Experience, Feb. 3-6, 2023, in Los Angeles.
Pelts was one of two national recipients selected from four-year universities with less than 2,000 students.
"This recognition was a surprise and such an honor," Pelts said. "In all truthfulness, this award belongs to the many faculty and staff at Ozarks who chose to spend a large portion of their lives investing in first-time students. Freshmen come to Ozarks with big dreams, a little apprehension, and abundant potential. It's my honor to lead a team that is dedicated to helping freshmen find their path each day."
Pelts, who joined Ozarks in 2001, has been the director of the University's Jones Learning Center since 2019 after serving as the assistant director the previous 12 years. She was promoted to the new position of vice president for student success in August of 2021.
"For nearly 25 years Dody has committed her professional skills, talents, education, and energy to enabling and empowering students to be successful," said U of O President Richard Dunsworth. "She does not give up on a student, even when they may have given up on themselves."
Dunsworth said Pelts has led efforts to "increase the dialogue and exchange of information and ideas between and among faculty and staff to improve retention and persistence."
"The first year of the modification resulted in an eight percent increase in freshman retention, Dunsworth said. "Her results are amazing, but just as important as her results is the approach to students and student success that Dody is inculcating in the campus. She is using data and information to guide strategy, continuously testing and modifying strategies, conducting environmental scanning and research with students who complete as well as those who transfer and stop out, while integrating a sincere and authentic voice to and for every student."
Several students also submitted letters of support for Pelts during the nomination process.
Said Joseph Chrisman, "When I finally stepped foot on the campus, Covid-19 was something that made the moving process difficult and created fears that my college experience would be ruined, but because of Mrs. Pelts she provided an environment that would allow me to make friends within the first week of classes. Despite no longer being in the course, she still makes time to help me out and allows me to come into her office and discuss different things like classes or ways to deal with stress. Without her on campus, things wouldn't be the same. With everything she does, she continues to create big impacts on the futures of many students."
Said Maddison Powers, "As I was stepping foot at the University of the Ozarks for the first time, in the midst of a global pandemic, I had no idea where to turn. For the first time ever I was completely on my own; a brand new place and brand new people to meet. Fortunately for me, I was soon placed in Dody Pelts' introductory course. Mrs. Pelts ensured that I always felt welcomed at the University and understood that she was there for me, regardless of the situation. As a first-semester freshman, Mrs. Pelts was part of the handful of staff and family members that consistently checked in. Not only did Mrs. Pelts discuss academic goals with me, but about my emotional being as well. This was especially important to me considering I was about 13 hours from home. She was also very thorough in ensuring that I knew all of the resources that were available; whether it was tutoring, counseling, etc. Even as I continue my academic journey at the Ozarks, Mrs. Pelts still checks in with me and we often still converse about my achievements and where my future is guiding me."
Recipients of the Outstanding First-Year Students Advocate award are selected by a national panel composed of members and former members of the National Advisory Board of the National Resource Center, past Outstanding First-Year Student Advocates, and other leaders in American higher education.
Established at the University of South Carolina, the National Resource Center for The First-Year Experience and Students in Transition serves education professionals by supporting and advancing efforts to improve student learning and transitions into and through higher education. The organization achieves this mission by providing opportunities for the exchange of practical and scholarly information as well as the discussion of trends and issues in our field through the convening of conferences and other professional development events such as workshops and online learning opportunities.
Topics: About, Academic Support