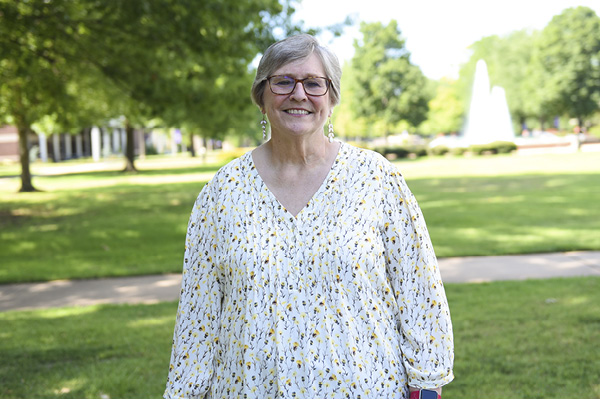 University of the Ozarks alumna Leanita Pelts, who previously worked at the University for 30 years, is returning to her alma mater as an instructor of education, beginning the Fall 2022 Semester.
Pelts, who worked at the University in various positions from 1985 to 2015, has served as a special education teacher for the Clarksville School District since 2018.
"Returning to Ozarks to the Education Department is very exciting for me; it feels like a homecoming of sorts," Pelts said. "Coming here from the public school system, I have experiences and real life knowledge to share with those preparing to teach.  I am thankful for the opportunity to become a part of the Ozarks family once again."
Pelts began working at Ozarks in 1985 as an office manager in the Division of Education and started taking classes at Ozarks on a part-time basis shortly thereafter. She earned her bachelor's degree in general studies in 2004. 
After earning a master's degree in education from the University of Arkansas in 2006, she continued to work at Ozarks, serving as an adjunct professor in education and program coordinator for the Jones Learning Center from 2006 to 2014.  She was an instructor of education from 2014 to 2015 before leaving Ozarks to teach in the Jasper School District from 2015 to 2018.
Pelts completed an educational specialist degree (Ed.S) with emphasis in educational leadership and special education leadership from the University of Arkansas in 2022.
Pelts said she is excited about helping prepare future classroom teachers.
"I believe that every child or person can learn. As an educator it is my job to find the best way to present the material so that each person can learn to their fullest potential," Pelts said. "I want to make an impact at home, in my community, and wherever God provides an audience, by teaching. I believe that we must be a lifelong learner and stay current on what is happening in the schools, in our community and in our country.  I want to learn everything I can to be qualified to be the best advocate for all of my students."
Pelts has three sisters, including Phyllis, who is a graphic designer and brand manager in the University's marketing and public relations office, a step-brother and several nephews and nieces. 
Her hobbies and interests outside academia include, church, family, and travel.  "I love to travel with family and friends and see the wonderful world our Creator has made for us," Pelts said. "I love to study God's word and am an active member of my church."