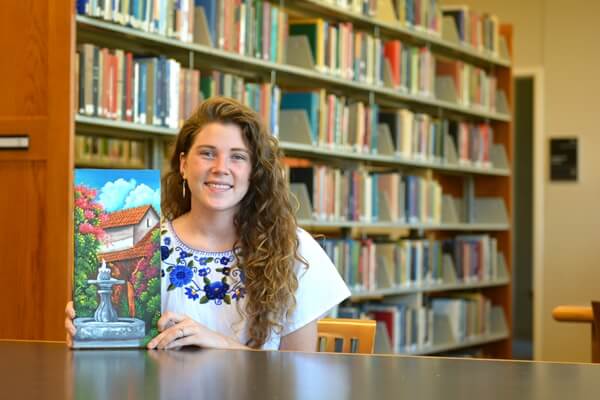 How does a college student from Springdale, Ark., end up in Guatemala teaching English to the locals and working on her own Spanish-speaking competency?
If you ask University of the Ozarks junior Boston Pearson, it was exactly where and what she was supposed to be doing.
Pearson, an elementary education major from Northwest Arkansas, spent four weeks during the summer of 2015 in Antigua, Guatemala, involved in a Teaching English as a Foreign Language (TEFL) program through Maximo Nivel, a Latin American study-abroad agency. Pearson taught students from age 17 and up the basics of the English language while earning her TEFL certification.
It was Pearson's second trip to the Central American country that has captured her interest for years. She went on a mission trip to the country two years ago as a freshman.
"Ever since I was in high school I've had an interest in Guatemala," Pearson said. "I've always loved the people there and the culture. It's such a small country and not many people attention to it. There has been a lot of injustice and hardship there as well. But the people are so kind and giving and are always striving to do better. I'm just glad God gave me opportunity to go back. As soon as the plane landed in Guatemala, it felt like home. I knew it was where I was meant to be."
Junior elementary education major Boston Pearson spent four weeks during the summer of 2015 teaching English in Antigua, Guatemala
Pearson not only taught grammar and sentence structure to the locals, she also honed her own Spanish. Through the Maximo Nivel program, she stayed with a local host family that spoke no English.
"I felt like going in that I could read and understand Spanish pretty well, but I was not real comfortable speaking it," Pearson said. "In Guatemala, I had no choice but to speak Spanish and it was really incredible how much it improved in those four weeks. It was a great situation for me because I love the Spanish language and this immersion experience forced me to get much better and more confident in speaking it."
As she was working on improving her Spanish, Pearson found that what she was going through also inspired her students.
"After class I would talk to my students in Spanish and I think they saw that my Spanish was not perfect but that I didn't let it stop me from trying my best and trying to continue to improve," Pearson said. "I think it was a lesson they used themselves as they were learning English."
Pearson said her work with TEFL was especially gratifying.
"It was a great experience to work with the students because they were so driven and eager to learn," she said. "It's not easy to learn a new language as an adult, and I tried to stress that it was about endurance and keeping at it. It was so exciting when you saw something click in the students and they started to comprehend it. That was something that was very special."
Pearson credited her Ozarks professors, Amy Oatis and Dr. Salomon Itza, for providing support and encouragement as she prepared for the summer experience.
"I got such great support from my professors," she said. "They saw what was in my heart, believed in me and helped me achieve my dream."
Pearson said her experience in Guatemala affirmed her goal of returning to Central America after graduation and pursuing a career teaching English.
"I want to teach English and use that as a tool to talk to people about God," Pearson said. "Being TEFL certified is going to open so many opportunities for me and I'm excited to see where God is going to lead me next."
Topics: English