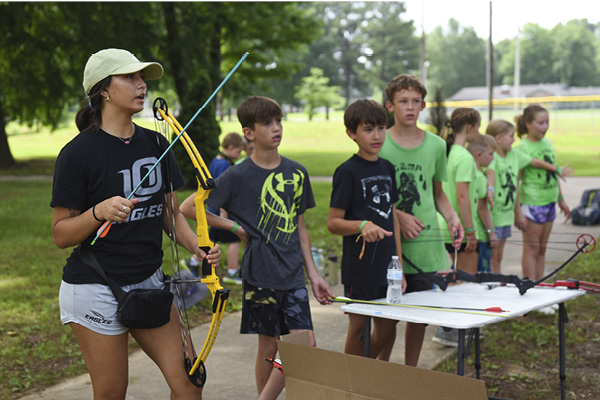 Thanks to four University of the Ozarks physical education majors, this summer has been an even more enjoyable experience for more than 60 local children.
The four students — McKenzie Becerra, Jacob Friemel, Rebekah Guess and T.J. Saniseng — are serving internships this summer with the City of Clarksville's Parks and Recreation Department. With the assistance of Darrell Shaw, director of the University's Ozarks Outdoors program, the students organized and led the inaugural Camp Take-A-Hike, three separate week-long summer camps for youth ages 7 through 11.
The camps were held during the weeks of June 13, June 27 and July 11. They were held in the morning hours throughout the week with the U of O students leading the way in such sports and activities as kickball, capture the flag, archery, biking, kayaking, swimming, disc golf and arts and crafts.
"Our goal is to just keep the kids moving and active," said Shaw. "The first camp we had 15 sign up and the last two we had the maximum of 25 with others on a waiting list. The internship is designed to support programming for the community and give students experience for their future careers and we've been pleased with how the first year has gone."
The U of O students are receiving one academic credit hour for the experience and are getting paid for their work.
"It's been a very enjoyable experience," said Friemel, a junior from Subiaco, Ark. "I've been a little shocked with how energetic the kids are. Just trying to run around with them and keep up with them wears me out by the end of the day."
The four U of O students are all a part of the Ozarks Outdoors program and all of them are pursuing careers in coaching or teaching. They believe the internship is preparing them for their career paths.
"I know this is the type of thing I want to do for a career and this experience just reaffirms that," said Guess, a junior from Clarksville. "Things like getting and keeping their attention and getting them to be engaged is great experience for my future."
Clarksville Mayor David Rieder said he has been impressed with the energy and enthusiasm of the interns in developing and leading new opportunities for area children as well as the interns in other departments within the city.
"I have asked my staff to challenge their interns with the day-to-day affairs of city operation," Rieder said. "We have witnessed Ozarks interns leading new programs such as a thriving community garden, youth camps, concerts, and new marketing campaigns. Three interns worked directly with our economic development office to provide support to local existing and expanding businesses. The diverse cultural backgrounds of these students have aided our efforts to be a more inclusive community. Every Ozarks intern has left a positive and lasting impact in our city. I hope we continue to impressed a love for public service among each of them."
Saniseng, a senior from Van Buren, Ark., said the U of O students are also appreciative of the opportunity to put their own stamp on the summer camp.
"Having the chance to create and develop what the camp looks like has been a great experience," Saniseng said. "I've worked with kids a lot, but I've never had the freedom to really create what a camp might look like. To work with the children and to introduce new activities and games and to see them learn and grow is really great. When you see them find something that they really like or that they're good at, it's very gratifying."
Becerra, a junior from Heber Springs, Ark., said she has heard positive feedback from the children as well as their parents.
"I work at Walmart and I see a lot of the kids and their parents outside camp and I hear about how much they are enjoying the camp and how much the parents appreciate this opportunity for their kids," Becerra said. "There's even one kid who came to all three camps. I think parents like that their kids are getting outside and being active for at least a few hours a day."
Guess, who grew up in Clarksville, said she wished she would have had an opportunity to take part in a local summer camp like Take-A-Hike while growing up.
"I'm a little jealous because I wished we had something like this," she said. "It's a great thing for the community and I'm just happy to be a part of it."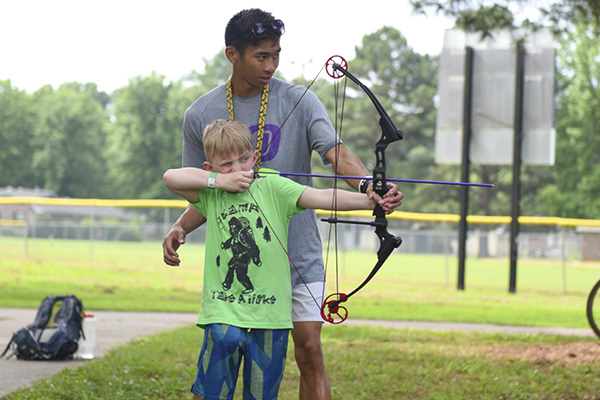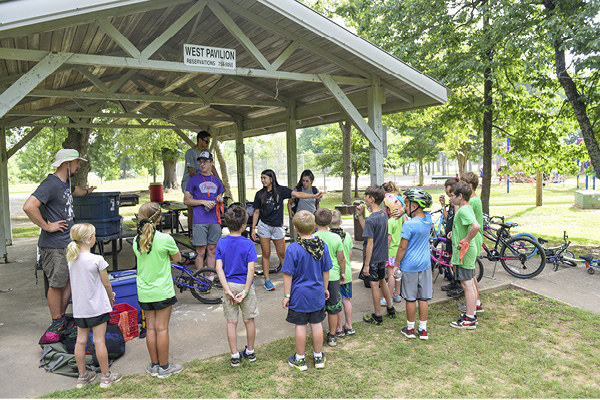 Topics: About, Physical Education