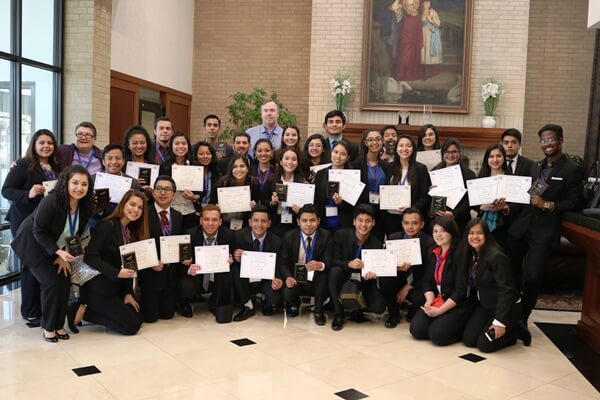 The University of the Ozarks' Phi Beta Lambda (PBL) team captured a total of 31 top-five finishes at the 2017 PBL State Leadership Conference, held April 7-8 in Little Rock.
PBL members from U of O tallied four first-place awards, 10 second-place finishes, five third-place awards and 12 other top-five honors during the annual state-wide event that draws PBL chapters from universities and colleges throughout the state.
For Ozarks, Diana Perez took first in the financial analysis and decision making category, Amanda Paz took first in impromptu speaking, Ivan Bustillo was first in the social media challenge, and Miguel Cuellar took first in statistical analysis.
The University's second-place finishers included, the team of Jose Salinas, Luis Robles and Shanice Guzman in economic analysis and decision making; Manuel Tambriz in client service; Nathalie Calero in entrepreneurship concepts; Cuellar in financial concepts; the team of Ester Lopez and Daniel Ortega in human resource management; the team of Lorenzo Bac and Gabriel Serrano in integrated marketing concepts; Maria Corea in management concepts; Elvia Pinzon in marketing concepts; Kelechi Nkalari in public speaking; and the U of O PBL chapter in largest local professional division.
The third-place finishes for Ozarks included, Perez in business sustainability; Henry Marin in future business educator; Amanda Paz in future business executive; the team of Salinas, Robles and Franchesca Garcia in human resource management; and Maria Rivas in management concepts.
Other Ozarks students who placed in the top five were, Sam Todd, Kathleen Sotomayor, Ester Lopez, Carlos Orozco, Ohany Roman, Nicole Justice, Rosendo Garcia, Valerie Carias, Margie Guerra, Rodrigo Roldan and Michael Justice.
The University's PBL chapter took home 31 top-five finishes at the 2017 PBL State Leadership Conference, held April 7-8 in Little Rock.
Topics: Student Organizations