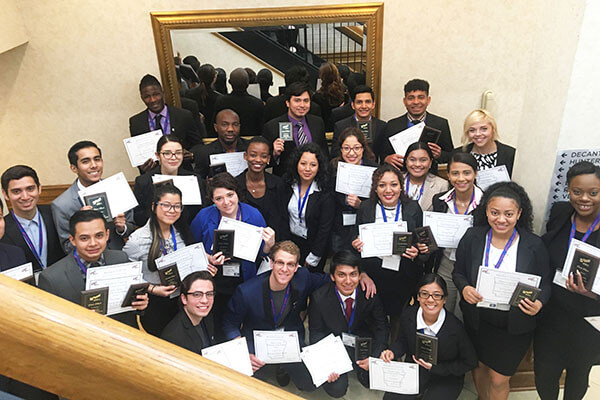 The University of the Ozarks' Phi Beta Lambda (PBL) team captured a total of 19 top-five finishes at the 57th annual PBL State Leadership Conference, held April 5-6 in Little Rock.
PBL members from U of O tallied three first-place awards, seven second-place finishes, two third-place awards and seven other top-five honors during the annual state-wide event that draws PBL chapters from universities and colleges throughout the state.
"These future business leaders represented University of the Ozarks well," said Dr. Scott Sheinfeld, assistant professor of business administration and marketing and the PBL faculty advisor. "All these students worked hard applying their classroom knowledge to real-world scenarios. The proud legacy of our involvement in Phi Beta Lambda lives on in this team. Congratulations to all our competitors."
For Ozarks, the team of Jasmine Williams, Juan Cano and Nicole Lopez won first place in the category of Business Sustainability and the team of Carlos Orosco, Yessenia Alvarez and Laura Gochez won first in Human Resources Management. The U of O team of Rodrigo Roldan and Henry Marin took first place in Global Analysis and Decision Making.
The Ozarks team of Ralph Jean-Pierre, Spence Jean Baptiste and Richard Rodriguez finished second in Economic Analysis and Decision Making and the team of Rosendo Garcia and Yeimy Rodriguez took second in Business Decision Making. The U of O team of Katerinn Chamale, Falon Hanson and Marin finished second in Strategic Analysis and Decision Making. The duo of Yailin Blackman and Melissa Brenes took second in Business Sustainability, while Ozarks got individual second-place finishes from Rowan Westheimer in Social Media Challenge, Fernando de la Cruz in Statistical Analysis and Shanice Guzman in Justice Administration,
Ozarks' third-place finishers were, Falon Hanson in Public Speaking and Isaias Ortiz in Microeconomics.
Guillermo "Will" Hernandez and Tanner Young finished fourth in Emerging Business Issues and Julio Molina took fourth in Cyber Security Desktop Publishing.
de la Cruz finished fifth in Programming Concepts, while other fifth-place finishers for Ozarks included, Orosco in Job Interview, Gochez in Marketing Concepts, Hernandez in Management Concepts and Jean-Pierre in Macroeconomics.
Guzman, the U of O chapter president, said she was proud of how her team competed in the state competition.
"I believe that there is no word such as quitting, but with perseverance, now that takes you further in life. That's exactly what U of O's PBL team portrayed over the weekend," Guzman said. "Not only did our team bring home several top finishes in various categories, they also worked hard to prepare. I know that they will keep working hard to hone these skills and knowledge as they prepare for their future careers. I am definitely proud of them."
Topics: About, Academics, Business Administration, Mathematics