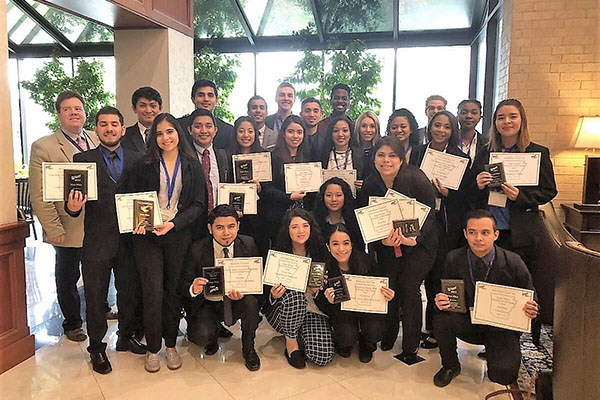 The University of the Ozarks' Phi Beta Lambda (PBL) team captured a total of 20 top-five finishes at the 2018 PBL State Leadership Conference, held April 6-7 in Little Rock.
Awards
PBL members from U of O tallied two first-place awards, seven second-place finishes, four third-place awards and seven other top-five honors during the annual state-wide event that draws PBL chapters from universities and colleges throughout the state.
For Ozarks, the team of Jose Salinas, Franchesca Garcia, and Luis Robles took first place in the category of Global Analysis & Decision Making. In the category of Marketing Analysis & Decision Making, the Ozarks team of Falon Hanson, Katherinn Lopez, and Henry Marin also won first-place honors.
The University's second-place finishers included Oscar Roldan in Entrepreneurship Concepts, K.C. Nkalari in Future Business Executive and Public Speaking, Gladis Alvarez in Human Resource Management, Laura Gochez in Management Concepts, Thibault Melchior in Marketing Concepts and the team of Lorenzo Bac and Maria Corea in Strategic Analysis & Decision Making.
The third-place finishers for Ozarks were Ohany Roman in Accounting Principles, Melchior in Macroeconomics, Marin in Client Services and Rowan Westheimer in Social Media Challenge.
Other students who placed in the top five were, Yailin Blackman, Melisa Brenes, Isaias Zapata, Ester Lopez and Ronald Flores.