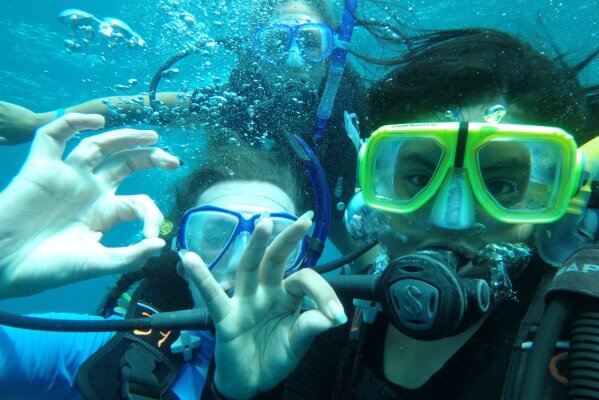 University of the Ozarks junior Amanda Paz spent her summer scaling the jungle canopies of a rain forest, scuba diving at one of the most ecological-rich reefs in the world and working with some of the most diverse animals on the planet. And, it was all done in the name of science.
Paz, a chemistry and biology major from San Pedro Sula, Honduras, served a month-long research assistantship in Honduras for Operation Wallacea (Opwall), an organization that runs a series of biological and conservation management research programs in remote locations across the world.  The expeditions are designed with specific wildlife conservation aims in mind, from identifying areas needing protection to implementing and assessing conservation management programs.
Working with scientists and other research assistants from around the world, Paz spent two weeks in the jungles of the Cusuco National Park and two weeks on the Honduran island of Utila.
"It was an amazing month," said Paz. "I got to take part in some great experiences and meet some incredible scientists and research assistants who share the same passion for science that I do. It just made my love for science and for research that much greater."
During her time in the Cusuco National Park, Paz took part in a jungle survival training course.
"We left basecamp to go into the depths of the jungle for four days, to learn how to survive by cooking our own food, building our own fire, getting water and understanding how to handle the tropical rain forest terrain," she said.
She also received lessons in neo-forest ecology.
"We would have two-hour lectures along with practical experiences," Paz said. "For example, we would go to bed at 10 p.m. one night after a lecture on birds and how to identify bird calls. The next day, we would wake up at 3 a.m., hike to one of the trails and identify all the birds we could hear. Afterwards, we would have breakfast and a botanical lecture and at 10 a.m. we would go to one of the designated areas and measure diameters of trees, identify them and quantify them. Then we would have lunch and have a lecture on Herpetology and for the rest of the day we would help the 'Herp Team' spot, weigh, measure, and identify different reptiles and amphibians on the different trails."
After being trained in the theory, practical application, and skills of neo-forest ecology, the research assistants were sent to various camps within the park where they assisted lead scientists in collecting specimens and data.
"We were sent to Cantiles, the highest point in the entire park and the most difficult terrain," Paz said. "For a week we enjoyed sleeping in hammocks, showering in rivers, and sweating through different trails in a 'pick-your-adventure' experience. Personally, during my time at Cantiles and thanks to the preparation I received at U of O, I decided to venture with the Inverts Team, Habitat, the Herp Team and Small Mammals."
Junior Amanda Paz had the opportunity to earn her PADI open water dive certification as part of her month-long research assistantship in Honduras with Operation Wallacea.
After the experience at Cusuco, Paz spent two weeks at Utila, where she became a PADI certified open water diver and took part in a reef ecology course in the waters of the Mesoamerican barrier reef system, the second-largest reef in the world.
"The course consisted of a two-hour lecture, accompanied by a practical dive where we would apply what we learned at the lecture," Paz said. " For example, one day in the morning we would learn about the different types of algae at 7 a.m., and then at 10:30 we would go on a dive to identify them at the reefs. Then, at 1 p.m. we would have a lecture on types of coral, and at 3 p.m. we would have a dive where we would identify them.  As a diver, I experienced some of the most wonderful landscapes I have ever witnessed. I was able to learn all the different types of fish and identify them as they swam with me. I was able to swim with turtles, rays and barracudas."
Paz said one memorable moment came during a dive outing when the boat's captain spotted some dolphins.
"We chased them for about ten minutes, and when we found them, with none of our gear on except for the goggles, snorkels, and fins, we swam with wild dolphins in the middle of the ocean," she said. "We were in raging waves, strong winds, and nothing but the big blue sea, and the high-pitch dolphin calls filling our adventurous hearts. After having these wonderful creatures at arms-length and swimming with them for about half an hour, we returned with full hearts to the Utila Research Center. It was a remarkable experience."
Paz had the opportunity to dive as far as 60-feet to the ocean floor, which, interestingly, was the exact height that she reached in the jungle treetops as part of her canopy access training at Cusuco.
"The entire month was probably the best experience in my life as a young scientist in the field," Paz said. "Overall, the experience taught me not only about science and ecology, but it also helped me challenge myself physically by conquering the difficult jungle terrains, defeating my fear of heights by climbing trees in canopy training, and expanding my horizons by literally going above and beyond as a diver in Utila. I also got to interact and network with other scientists from around the world, which made it even more incredible."
Topics: Biology