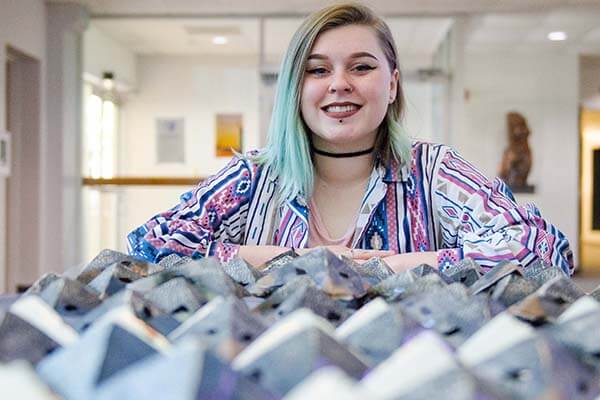 University of the Ozarks senior art major Stephanie Payton will present her Senior Exhibit, Atmospheric Anomalies, from May 6-18 in the Stephens Gallery.
As part of her senior show, Payton will present an artist's talk at 7 p.m., May 8, in Baldor Auditorium in the Boreham Business Building. There will also be a reception from 7-8 p.m. on May 11, in the gallery, which is located in the Walton Fine Arts Center.
Payton, from Hackett, Ark., is a sculptor and installation artist who creates compositions that express the idea of contrast by exploring the complexities of geometric forms in relation to organic forms. She experiments with techniques such as slip casting and sculpting with plaster.
Payton said she uses art to communicate her life experiences and to express what she cannot through language.
"My fascination with geometry and abstraction is based in an attempt to control forms because of an inability to control certain areas of my life," she said. "My work is a response to dramatic changes in my life and demonstrates my inner struggle with perfectionism and control. I am drawn to geometry and simplified forms because they exemplify the possibility to dominate and minimize the complex. The soft, organic forms serve as a relief from the throes of the strict order of the geometric pieces."
Payton said Atmospheric Anomalies juxtaposes clean lines and crisp geometric forms with unconstrained organic shapes.
"This contrast, both intentionally and unintentionally, manifests through form, surface detail, or color," she said. "I simplify imagery, reducing it to abstraction, which can be seen in Domicile Disparity, in the clouds, mountains, and houses. Imagery in my work includes forms seen in nature such as cubes, spheres, and pyramidal shapes. A variety of surface textures provide contrast as is seen in Order >>> Atrophy.  I favor sharp, defined lines in my structural pieces and allow loose lines to describe softer, organic forms. The color palette accentuates my aesthetic of contrast through the duality of deep black and pure white. I also use gray and slate blue to balance the color scheme, to accent or to emphasize important elements of the piece. Additionally, I vary my use of matte and glossy finishes to communicate contrast and to emphasize elements of a piece."
Payton's three-dimensional sculptural forms use a variety of media, including plaster, plastic and wood. She primarily creates work using molds, slip casting and hand-building in clay. Her artwork is predominantly installation based.
"The slip casting technique is essential because it allows me to create a repetition of forms that I arrange into diverse compositions," Payton said. "These compositions contradict how forms traditionally interact and can cause discomfort due to the viewer's expectations of a gallery setting and of reality itself. This concept is found in Domicile Disparity, where clouds are arranged on the floor and mountains are installed upside-down from the ceiling. To further enhance the atmosphere, I include sound and lighting effects in my work. These sectioned installations form a larger environment, which creates a gallery experience that is unified by my aesthetic of contrast, color scheme and texture."
A life-long Arkansan, Payton will graduate with honors from Ozarks on May 18. She has received several awards and scholarships which include the Amanda Alders Pike award in Art, an art scholarship from the University of the Ozarks, a scholarship from Carroll H. Rowbotham, and more.
Payton also served as the president for OzArts art club. In addition, she has served as an intern at Terra Studios in Fayetteville, Arkansas, has worked with artists in Project Space at the NCECA conference and has worked as a tutor and studio assistant for several years.
Topics: About, Academics, Art, Community Events