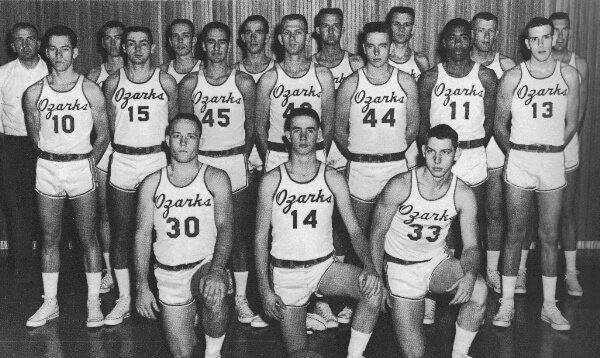 University of the Ozarks will celebrate its pioneering 1963-64 basketball team in an event titled, "The Integration of Athletics in Arkansas," at 7 p.m. on Thursday, Nov. 17.
The event, which will be held in the Rogers Conference Center, is part of the university's Walton Arts & Ideas Series and its 2016-17 theme, "The Power of Sport."
There is no cost for admission and the public is invited.
The "Integration of Athletics in Arkansas," will take place in a panel format and will feature several members of the 1963-64 Ozarks basketball team, including Sylvester Benson, who was a freshman guard from Oklahoma during that time. In the fall of 1963, Benson became the first black player to compete for an athletic team at a predominately white college in Arkansas.
Benson and some of his Ozarks teammates will discuss this trail-blazing season that helped tear down racial barriers in intercollegiate athletics in Arkansas.
Other players from the 1963-64 team expected to take part in the event include, Joe Bagwell, Gary Coots, Richard Franks, Bill Wyatt and Ron Gammill. Rex Nelson, a long-time Arkansas journalist and authority on the former Arkansas Intercollegiate Conference, will serve as the moderator for the event.
After graduating from Ozarks in 1967, Benson went on to a 35-year career as a high school teacher and administrator in Kansas, including 31 years in Manhattan, Kan. He retired as a principal in 2001. He was elected to the U of O Sports Hall of Fame in 2004 and has been an active member of the university's Alumni Association for many years. He has also served as a member of the U of O Board of Trustees.
For more information on the event, please contact the Office of Public Relations at 979-1433.
Several members of the 1963-64 Ozarks men's basketball team will participate in the "Integration of Athletics in Arkansas," event on Thursday, Nov. 17.
Topics: Athletics