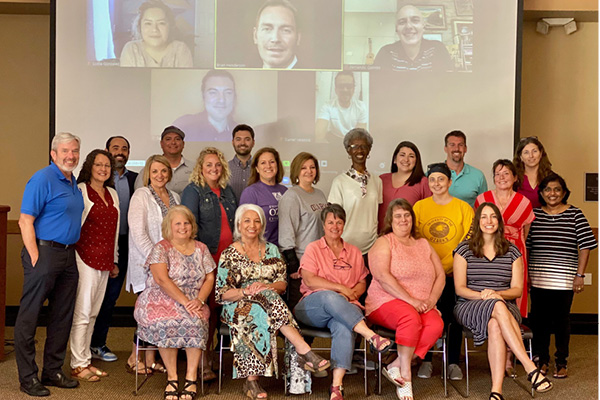 University of the Ozarks will present an opportunity to learn about the University's Alumni Association Board of Directors and to hear from several of the board's officers during a virtual Ozarks Speaks event at 6 p.m. on Thursday, Oct. 7.
The event will be held via Zoom and all U of O alumni and friends are invited to tune in. The link is https://ozarks-edu.zoom.us/j/95949850940?pwd=Y3p1QWdjNW9GYkpnTXJEeWcreXBEUT09
The Ozarks Speaks panel discussion will be hosted by Brian Henderson, a 2002 Ozarks alumnus and director of annual giving and alumni engagement. It will feature board president Shannon (Carlisle) Huggins '91, vice president Cyleste (Willis) Coppage '97, and treasurer Brittany Brantley '13.
"This is a great opportunity for alumni to learn more about the alumni board, what it does and how to serve on it," Henderson said. "This is your chance to hear from three officers of the board and get a glimpse into how the board helps the University operate and how it represents the nearly 8,000 known alumni around the world. Ozarks is truly blessed to have amazing alumni on the board and we're so appreciative of past and present members that care so deeply about University of the Ozarks."
Huggins, from Arlington, Texas, graduated from Ozarks with a degree in marketing and went on to earn a master's degree from Texas Women's University in Health Care Administration. She is the senior vice president for Methodist Health System, based out of Dallas, Texas.
Coppage, who resides in South Pines, N.C.., spent multiple years in the military and is currently enrolled at American University in Washington, D.C., where she is completing an MBA.
Brantley, a communications and political science major, resides in Fort Worth, Texas.  After attending Ozarks, Brantley graduated from law school at Texas A&M in 2016 and became a licensed member of the State Bar of Texas.  
The University's alumni board consists of 28 members and meets three times a year. The board represents of a variety of class years and is made up of alumni from throughout the United States and around the world.