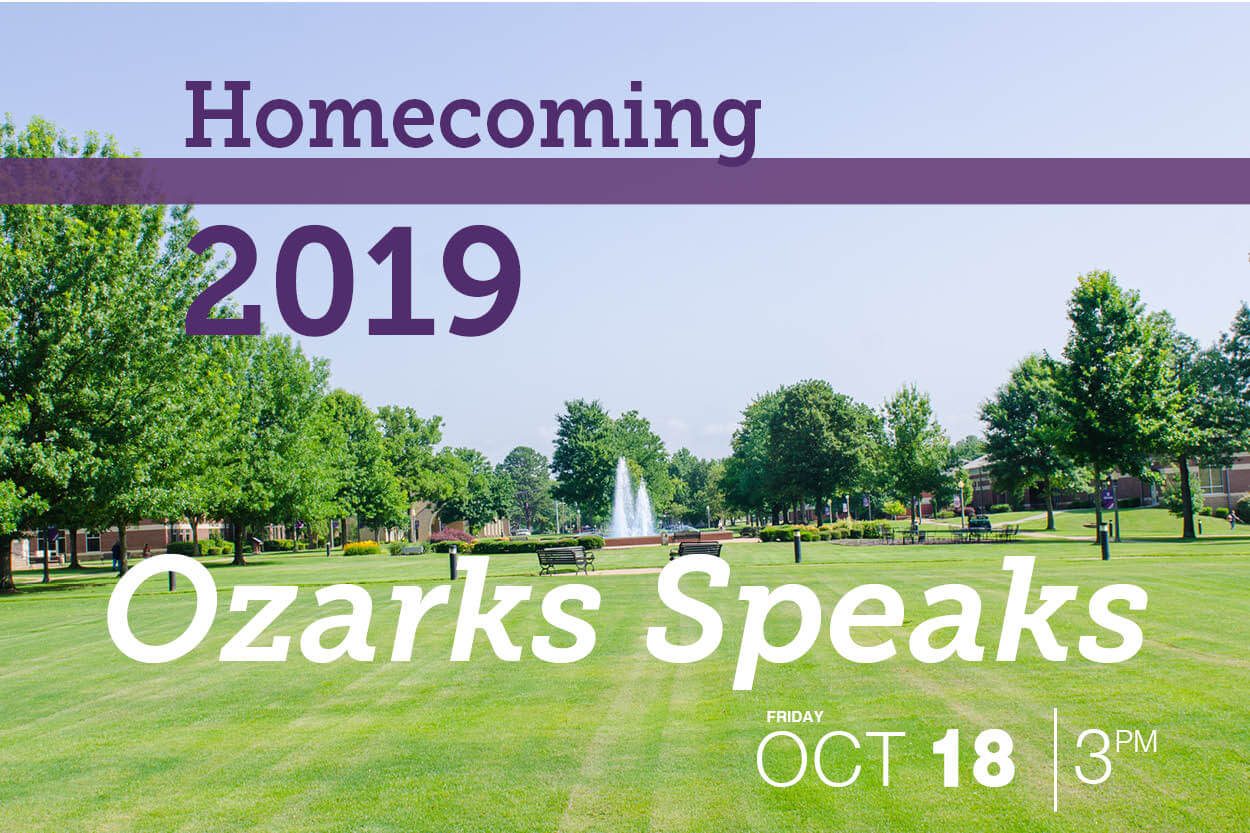 Six University of the Ozarks alumni from a variety of professions will discuss their jobs and career choices during the annual Ozarks Speaks event, scheduled for 3 p.m. on Friday, Oct. 18, in Rowntree Hall.
The panel discussion is part of Homecoming 2019 and will feature alumni Ian Bryan '13, Shannon Huggins '91, Amy Patton '10, David Ray '07, Rev. Bruce Williams '43, and Tyler Wilson '11.
The event is free and open to the public.
Ian Bryan '13
Ian Bryan of Russellville, AR, recently joined Simmons Bank in Russellville as a community banker after serving the previous four years at Arvest Bank. In his role at Simmons, Bryan's primary focus is on commercial lending, but also works in in treasury management, merchant services, and other services provided by the bank. A baseball player and cross country runner at Ozarks, Bryan has remained involved with his alma mater, serving on the University's Sports Hall of Fame Committee as well as the Alumni Association Board of Directors. He is pursuing a master's degree in business administration at
Arkansas Tech University. He and his wife, Lauren (Rogers) Bryan, have been married since 2016. He enjoys serving at New Life Church in Russellville, outdoors activities and travelling.
Shannon Huggins '91
Shannon Huggins of Arlington, TX, is the senior vice president for contract strategy and population health at Methodist Health System. She began with Methodist in 2002 and has system responsibilities for contracting and payor relations on behalf of Methodist. Additionally, she has operational responsibilities for the Methodist Patient Centered ACO (MPCACO). Huggins has more than 25 years of experience in contracting, payor relations, population health, financial analysis and decision support. She earned a master's degree health care administration from Texas Woman's University in 1993. She and her husband, Bryan, have two sons, both in college. In her free time, she has volunteered in various civic, educational and church committees. She enjoys being outdoors, spending time with friends and helping others.
Amy Patton '10
Amy (Smedley) Patton of Bryant, AR, is a laboratory manager and partner at PinPoint Testing, LLC; a position she has held since 2014. Her responsibilities include maintaining competency in a number of highly complex analytical techniques and mass spectral plat-forms. Previously, she was a chemist at the Arkansas Public Health Laboratory, working in the chemical terrorism section following a year as an APHL Environmental Public Health Fellow. Patton's research articles have been published in Analytical Chemistry, Forensic Science International, The Journal of Forensic Science, and Biochemical and Biophysical Research Communications. Her abstracts and presentations have taken her across the nation, where she has spoken in numerous venues on emerging drugs of abuse. For the past 11 years, she has maintained certification as an Arkansas-licensed and nationally-registered emergency medical technician. Patton received a master's degree in Interdisciplinary biomedical sciences from the University of Arkansas for Medical Sciences in 2013. She and her husband, Wesley, have two dogs.
David Ray '07
David Ray is the chief of staff to Arkansas Lieutenant Governor Tim Griffin. Ray has spent more than a decade working in electoral and issue politics in eight different states. He has managed two congressional races as well as a statewide race for attorney general. He also served as the communications director for U.S. Senator Tom Cotton's successful 2014 campaign. Most recently, he was the state director for Americans for Prosperity Arkansas. Ray currently lives in Maumelle, AR, and is married to his wife Jessica. They have one daughter, Charlotte.
Rev. Bruce Williams '43
The Rev. Bruce Williams of West Columbia, Texas, who turned 99 in August, is a retired U.S. Navy and prison chaplain. After graduating from Ozarks, Williams spent three years in the Navy, serving as an officer during World War II. He left the Navy to attend Princeton Seminary and was ordained in 1949. He was called to serve as a pastor for Buckingham Presbyterian Church in Berlin, Maryland. Williams stayed at Buckingham for three years before returning to the Navy. For the next 30 years, Williams served as a Navy chaplain. In addition to his time in World War II, Williams served in both the Korean and Vietnam wars. He retired from the Navy as a commander in 1975. Afterward, he served as interim and pulpit supply in several churches in Texas as well as a chaplain in the Texas Department of Corrections facility at the Clemons Unit in Brazoria, Texas.
Tyler Wilson '11
Tyler Wilson lives in Oklahoma City where he is an associate's attorney at the National Litigation Law Group, the largest consumer litigation law firm in the United States. He is responsible for assisting clients against predatory lending practices. He also manages attorneys in over 15 states and has helped clients settle more than $25 million worth of debt.  Wilson graduated from Ozarks with honors with a degree in biology. During his time at the University, he was a four-year starter on the tennis team and held numerous officers' positions in various clubs, including president of the RHA.  He also served on the Alumni Board, including a term as treasurer. After Ozarks, he went on to attend the University of Oklahoma College of Law and College of Public Health. He graduated with honors in 2015 with a master's degree in public health policy and administration and a juris doctorate. He was the first student at Oklahoma to obtain this dual-degree. After law school he would work as the senior associate attorney at Velie Law Firm, a world renown immigration law firm.  During his time there he would represent numerous high-profile clients, including internationally ranked tennis players, NFL and NBA players, the Arizona Diamondbacks and the OKC Thunder.