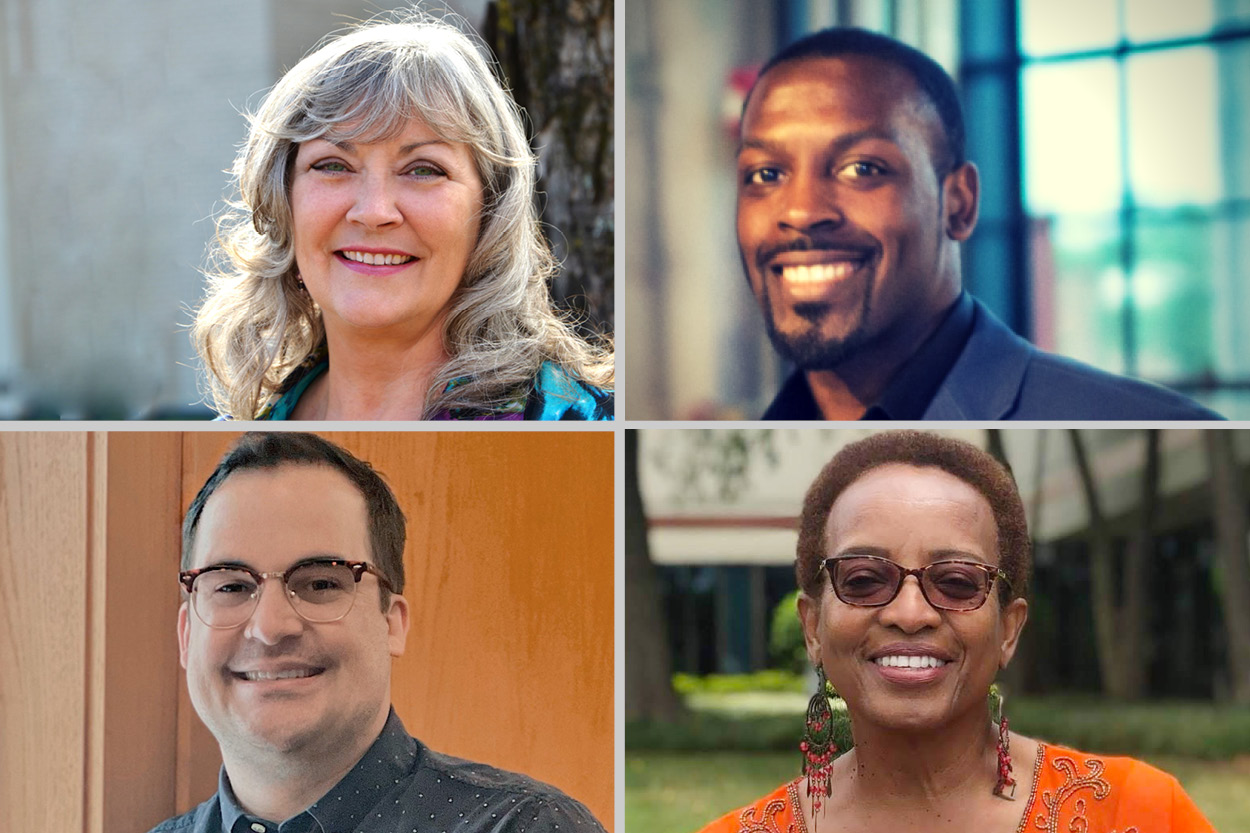 Four University of the Ozarks alumni from a variety of professions will discuss their jobs and career choices during the annual Ozarks Speaks, scheduled for 2:30 p.m. on Friday, Oct. 21, in Rowntree Recital Hall in the Walton Fine Arts Center.
The panel discussion is part of Homecoming 2022 and will feature alumni (pictured, clockwise from top left) Cindy Lanphear '87, Reggie Brasfield '04, Jackie Hampton '68 and Alex Chandler '12. The event is free and open to the public.
Lanphear, a longtime resident of Coal Hill, Ark., serves as the comptroller, human resources coordinator and safety manager for her family owned business, CAM, Inc. After graduating from Ozarks, Lanphear taught at Arkansas Valley Vocational Technical School and UA-Fort Smith while also completing her MBA at University of Central Arkansas. Moving back home to University of the Ozarks in 2000, Cindy served as an assistant professor in the business department for 17 years. She was honored by the Alumni Association with the Alumni Merit Award in 2020.
Brasfield is a consumer product supply chain and sales professional with over 18 years of experience with major CPG Fortune 500 national and international companies. His expertise is in supply chain management and sales. Brasfield is currently the senior national account manager at Belkin International. In addition to his professional employment, he is the executive director of Voice of Diversity, a nonprofit organization that focuses on education and community development. Brasfield is married with four children, ages 21, 20, 16 and 2.
The first in her family to earn a college degree, Hampton went on to a long and distinguished career in teaching, counseling and child welfare. For most of her career she was a consultant for child welfare agencies and a grant reviewer for federal and private agencies. She has authored several published articles, conducted numerous workshops and served as a featured guest speaker on topics related to child welfare and Black family issues. Hampton received a master's degree in social work from the University of Kansas (KU) School of Welfare and completed all but the dissertation towards her Ph.D. She will receive the 2022 Alumni Merit Award this weekend by the Alumni Association.
After graduating from Ozarks in 2012, Chandler went on to earn a master's degree in college student personnel from Arkansas Tech University. He previously worked for Texas A&M–Galveston in Campus Living & Learning and returned in 2021 to Conway, Ark., where he currently serves as area coordinator of apartments for Residence Life at Hendrix College. He and his wife, Morgan, have a 3-year-old son, Oliver "Ollie." He is currently in his first term serving on the Alumni Board of Directors.