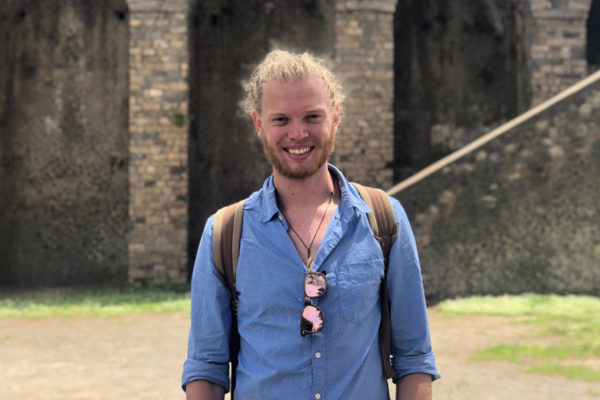 In just a few short years, Melle van Duijn has gone from a near college dropout to an honors graduate with a newfound excitement for continuing his education in graduate school.
Having graduated from University of the Ozarks in May with Magna Cum Laude honors, van Duijn will attend Oklahoma State University in the fall, where he will pursue a master's degree in philosophy and serve as a graduate assistant.
Born Dutch and raised in New Zealand, van Duijn came to the United States on an athletic scholarship to play tennis for another Arkansas university. Needing a change of scenery, he decided to transfer to Ozarks in 2017. It was around that time that he said he considered dropping out of college.
"I was very close to dropping out of college upon transferring here," van Duijn said. "But I can recall a few interactions with staff and fellow students early on that reinforced my initial motivation to get a college degree."
He said he was also inspired by the University's LENS program, which encouraged him to explore other academic disciplines. He ended up earning majors in philosophy and Spanish as well as minors in business administration and psychology. As a senior, he accomplished the rare feat of being named the University's outstanding student in both philosophy and Spanish. A few weeks later, he became the first in his family to earn a college degree.
"The LENS program really helped me come to the right conclusion about what to study," van Duijn said. "I started off as a business major, but halfway through my sophomore year I realized I had a passion for the arts. My academic advisor, Dr. Bill Eakin, and the rest of the faculty were extremely supportive in exploring options to change my major. Ultimately, I ended up graduating with a double major. The LENS program allowed me to combine my majors and minors to study a variety of fields and topics. For example, my philosophy senior thesis was focused on a philosopher who I had read in previous Spanish literature classes, while my Spanish senior thesis integrated a contemporary philosophical analysis."
"With the LENS program, I was given the freedom to explore a variety of different fields and I'm delighted to say that it not only allowed me to find my passion, stay in school, but also graduate with a four-year degree as the first in my family."
Outside the classroom, van Duijn said he fell in love with the Natural State, thanks to Ozarks Outdoors.
"I've always had an awesome time on the Ozark Outdoor trips," he said. "My first year at Ozarks, we camped out on the Buffalo River and I remember having a classic Arkansas outdoor experience with a campfire underneath the night sky. That has to be one of my favorite memories."
He credited his Ozarks professors, primarily Dr. Eakin and former Ozarks Spanish Professor Dr. Maria Montenegro, for helping him secure a position in graduate school.
"Not only did Dr. Eakin and Dr. Montenegro write fantastic letters of recommendation and help with my applications, but they also provided me with resources that ultimately lead to my decision to go to OSU," he said. "Outside of Dr. Eakin's office hung a letter from Oklahoma State expressing their desire for graduate assistants and Dr. Eakin, who was a GA as a graduate student, heavily recommended such an experience. In deciding between Boston College, without a GA position, and OSU with a GA position, his recommendation helped facilitate my decision-making process and I'm extremely excited for this opportunity."
Ironically, it was a joint class taught by Eakin and Montenegro that further sparked his interest in philosophy.
"I have always been fascinated with existentialism, and the philosophy department at Ozarks really allowed me to explore this interest in depth," Van Duijn said. "Last year, Dr. Eakin and Dr. Montenegro offered a joint class focused on existentialism that really gripped my interest in the field and made me want to explore it further in graduate school."
As he heads to graduate school and a possible career in higher education, van Duijn said he will always be thankful to Ozarks for rekindling his passion for academics.
"I mean this with all the honesty in the world; the faculty here have had such a positive influence on me that I'd love to be able to give back in a similar way," he said. "My ideal job would be to teach philosophy at a small University, just like Ozarks, and have an influence on my future students that resembles the type of experienced I had here."
Topics: About, Academics, Admission, Alumni, Philosophy, Spanish