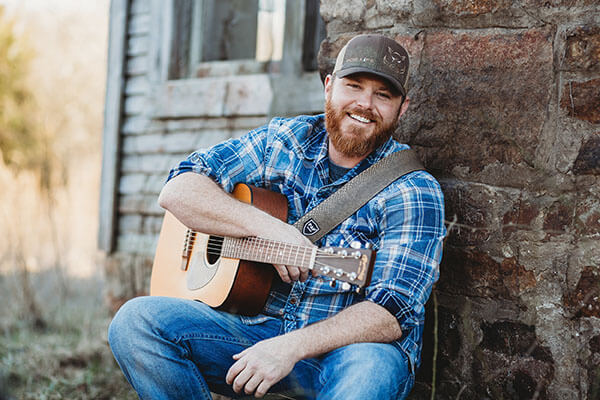 University of the Ozarks will present a concert by up-and-coming Arkansas country music musicians Heath Sanders and Mallory Everett on Saturday, April 13, on the campus mall.
The concert, which will begin at 6 p.m. on the campus mall, is part of the inaugural Ozarks Fest, an event for current and prospective U of O students. The public is invited to attend the concert and there is no cost for admission.
Sanders, who grew up in Marshall, Ark., and graduated from Ozark (Ark.) High School, is a former oilfield worker turned full-time musician whose popularity skyrocketed after a performance on The Bobby Bones Show in early 2018. Bones found a cover that Sanders put online of Chris Stapleton's "Either Way," and invited him to perform on his show.
While on the show, Sanders sang his song, "Bloodline," which quickly went viral and has been viewed more than 1.2 million times.  Since then, he has been selling out shows every weekend across the country. He's opened up for Drake White and Cory Smith and has been invited to open for Bones' own band, The Raging Idiots.
In February he release a new single, "Down on the South."
Sanders is associated with L3 Entertainment, management home to Justin Moore, Tyler Rich, Leah Turner and Scott Stevens, and recently signed a publishing deal with Sony ATV. His music has been called authentic and country as they come, with a powerfully rich voice and a life story that needs to be told.
Everett, who will open the concert with a 60-minute set, is a country music artist hailing from a rice farm in the Arkansas Delta.  She learned to sing whatever the tractor's radio would pick up and now she plays acoustic acts
throughout the mid-south.  Her album "Arkansas" has sold in the thousands and her fan base continues to grow.
Everett's style has been described as "full of soul with a natural country twang that is sure to have you toe tapping." Her second album is currently underway in Nashville and will be ready in 2019.
There will be food vendors and food trucks available at the event for guests. Audience members are encouraged to bring lawn chairs.
Topics: About, Admission, Campus Life, Community Events, Student Events