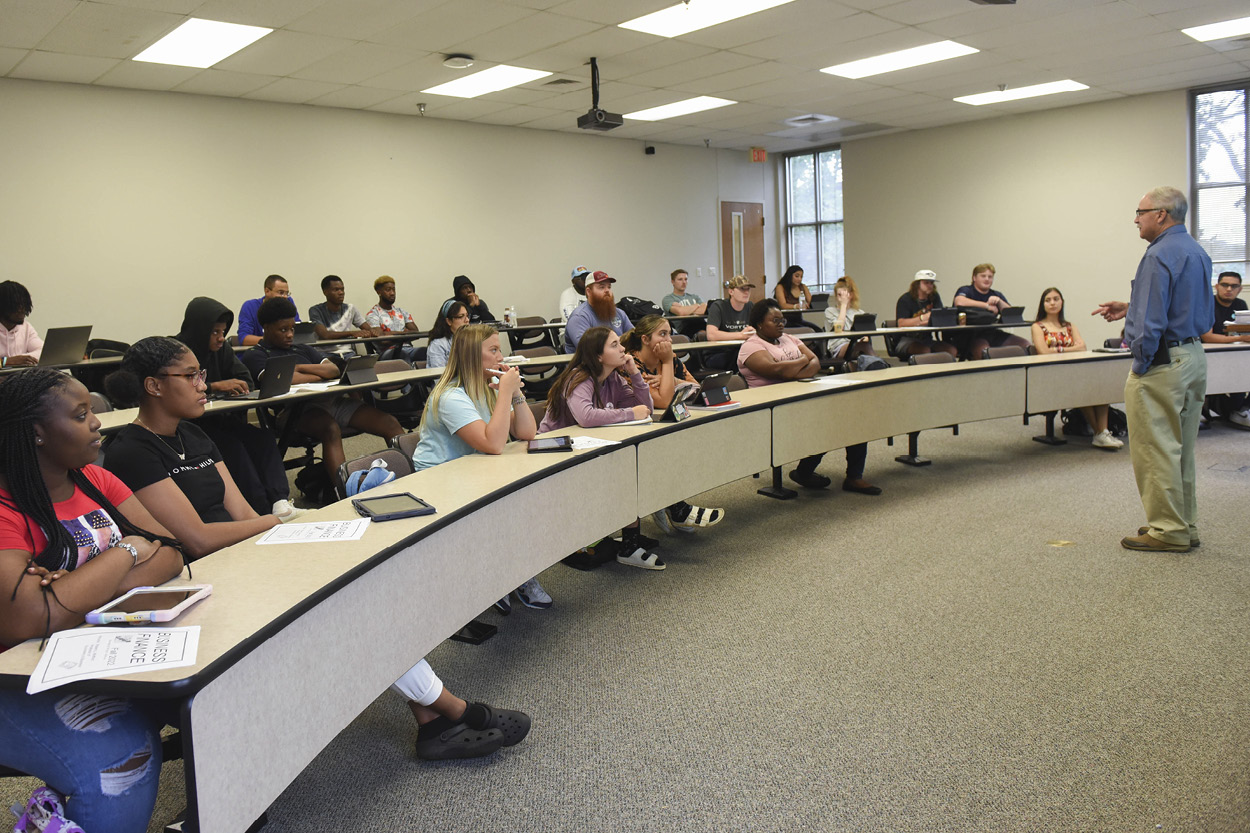 The recent addition of several new business-related academic programs at University of the Ozarks is providing students with more options of study and better preparation for the business world.
The University added majors in finance, management and marketing as well as a minor in entrepreneurship during the fall semester. The new programs were approved by the University's Board of Trustees last spring following a recommendation from the faculty.
Dr. Steve Oatis, associate vice president for academic affairs, said the new majors and minor within the business program were developed in part from the business faculty's assessment of student performance in the business administration major.
"Since its implementation in 2016, the business administration major had given students a generalized curriculum in business," Oatis said. "While this curriculum exposed students to a range of different content areas, including marketing, management, finance, accounting and economics, results on comprehensive examinations in the major's capstone course suggested that students would benefit from the opportunity to delve deeper into a business content area that aligned with their particular professional interest.  Additionally, the recognition that most prospective employers in the business world tend to ask for degrees in specific business areas contributed to the faculty's decision to design and approve the new majors and minor."
Oatis said the finance major will includes new courses in risk management, portfolio management and other finance topics.
"This will prepare students for a field with an above-average projected job growth over the next decade," he said.
Oatis said the management major captures much of the former business administration major under a more semantically appropriate name.
"Management is a more widely recognized term as a professional specialization than 'administration,' especially in the home countries of many of Ozarks' business students," Oatis said. "The curriculum of this new major also includes more focused attention to topics of employee supervision, organizational behavior, and other important areas of human resources management."
NaLisa Brown, assistant professor of marketing, said the new marketing major will provide students a better understanding of how companies market products and services.
"The beauty of a marketing degree is it provides a wide variety of opportunities in the marketplace," Brown said. "Students can focus on social media, sales, advertising, public relations, product design or market research. On a personal level, learning consumer behavior and persuasive communication helps students effectively communicate with others. "
Brown said that market forces show that business professionals specialize in distinct areas, such as marketing, management, accounting and finance.
"For our students to be competitive in the job market, they need degrees that fit their future employment needs," she said. "According to multiple sources, marketing majors are in the top five in-demand degrees. A report by the University of Potomac lists E-commerce and marketing at 3 and 4, respectively, while the National Association of Colleges and Employers lists marketing as number 5. Finally, marketing is listed as the highest-paying business major by Indeed.com."
Dr. Christine Scott, associate professor of business, said the new entrepreneurship minor will give students the opportunity to explore the foundations of a sustainable small business. 
"For example, a psychologist may want to open their own practice, or an artist may want to open an art gallery—yet do they have the foundations needed to be successful?," Scott said. "Obtaining this minor broadens the opportunities for students who do not necessarily want to major in business but are interested in learning about becoming an entrepreneur. "
Scott called small businesses "the heart of the economic system."
"Many fail in the first year because of lack of knowledge of the 'ins and outs' of running a sustainable business," Scott said. "This minor fills a gap in not only in our global economic system, but in our local economies as well.  And provides students with the fundamentals that can lead them to potentially owning a sustainable business."
Topics: About, Business Administration, Business Education, Management, Marketing