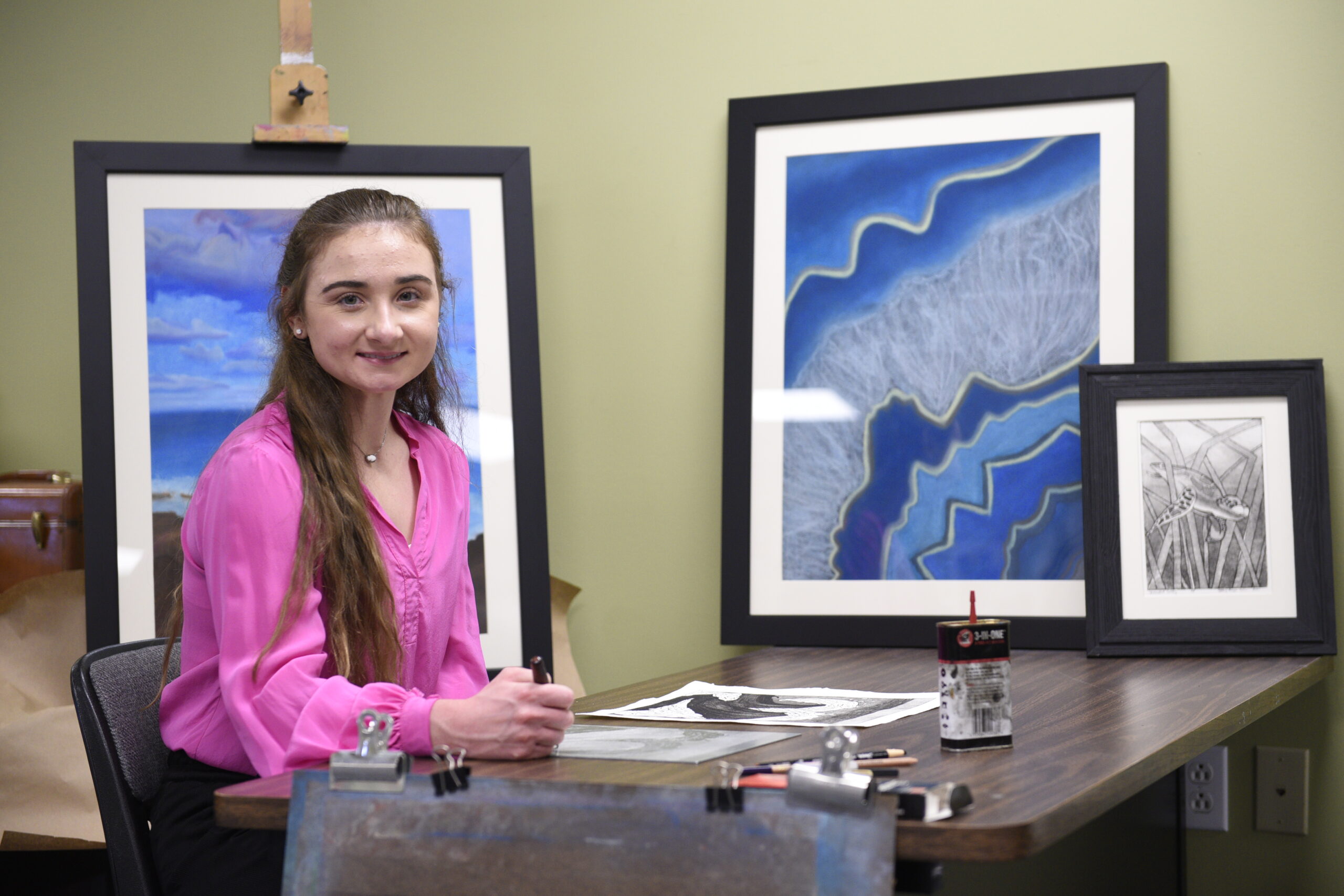 University of the Ozarks art major Holly Paige Vire of Clarksville will present her Senior Art Show, "Thalassophile," from Dec. 7-15 in the University's Stephens Gallery.
There will be a reception to meet the artist from 7-8 p.m. on Dec. 10. There will also be an artist talk at 6 p.m. on Dec. 9 in Baldor Auditorium in the Boreham Business Building.
Vire said her artwork in "Thalassophile" focuses on the importance of ocean conservation and the threat to marine life. She utilizes a mixture of media, including printmaking, pastel and mixed works.
"My printmaking pieces embody the distress that ocean life must encounter as a result of human impact and the contrast of pollution tormented waters with the soothing waves of unobstructed water," she said. "I created the pastel pieces with the intent to capture feelings upon paper. Finally, my mixed media pieces utilize both sculpture and two-dimensional works to educate and articulate achievable resolutions to prevent these tragedies. These works combine my two motivations which are to raise awareness and convince the viewers to reduce their contribution to pollution."
One of her pieces, "Seal Name," presents a seal tangled within fishing line which drags it below the surface.
"The expressive use of texture and detail within the contrasting depths of light and dark areas draw attention to the tormented display of marine life," Vire said. "The twisted incorporation of the mass of fishing line encompasses the space in a way that demands the viewer to feel empathy. In contrast to my light and dark pieces, the pastels mimic the color field pieces of Mark Rothko which also utilize the vibrancy of color as do my abstracted views of the ocean and its many depths."
Vire said that she has been infatuated with the ocean her entire life, despite growing up in landlocked Clarksville.
"As a competitive swimmer, I have always loved the water and in a way, the ocean is the upmost essence of water that exists," she said. "That fondness of the water, coupled with my adoration of animals, means that my passion for the ocean is deeper than just the surface level. This admiration that has followed me from my childhood into adult years is displayed within this exhibit and expresses that feeling. Inspired by that devotion to the ocean, I created these pieces to bring light to the movement of ocean conservation and the integral passion that we must apply to the situation. My view of the beauty of the ocean and its ruin are the main influences that I relied on during the creation of my artwork."
Vire said she hopes the viewers of her artwork "see that there is an internal and external war between right and wrong and the fate of the ocean itself."
"My artwork explains the vital state of the ocean through depictions of sea life, waves, and contamination to offer a sense of personal responsibility within the viewer. My passion for the ocean lies within the colors, textures and media that I chose to incorporate within this exhibition."