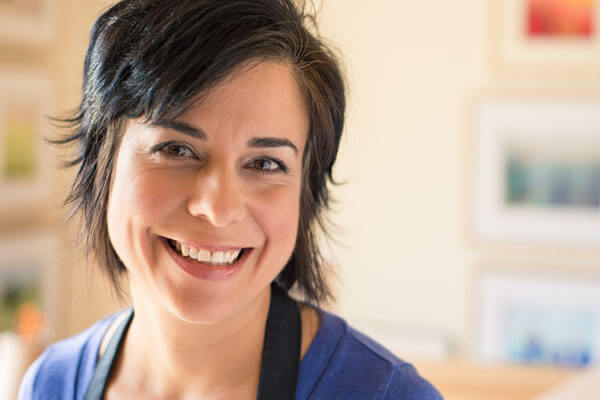 North Little Rock artist Virmarie DePoyster will showcase her exhibit of pastel paintings titled, "Bits and Pieces," at the University of the Ozarks' Stephens Gallery throughout March as part of the Artist of the Month series.
There will be a reception to meet the artist from 5-6 p.m. on Wednesday, March 6 in the gallery, which is located in the Walton Fine Arts Center. The gallery is open to the public throughout the week from 9 a.m. to 4 p.m. and there is no charge for admission.
DePoyster, who is a visual artist in residency with the Arkansas Arts Council Arts in Education program, was born and spent her childhood in Puerto Rico before moving to Arkansas at the age of 15.
"There's a little dictionary I've had since I was a teenager. When I look at it, I can still remember the aroma of strong Puerto Rican coffee in the kitchen as my sisters and I sat practicing our English," DePoyster said. "Thirty-five years later, the pages and I are both well worn, each stain and tear a reminder of the past that has shaped us. As an artist, I feel like that little translational dictionary. My work connects my past with my present and gives me a voice. It also allows the viewer to experience courage and vulnerability as I explore issues of spirituality, racial identity, and connection. In many of these works, words manifest as layers of my past. Some have a base layer of printed words from the Bible, and others come from sources that are personally meaningful."
DePoyster said that in many of her pastel paintings, the printed layers are clearly visible, and in others, they are obscured.
"This method is meant to illustrate the meaningful selectivity we use in deciding which layers of our personal stories to share with others and which to withhold," she said. "Additionally, in the acrylic works, I explored the use of symbols as an alternative way of storytelling. As always, color is a technique, a tool, and a language I use to emphasize an overall mood. Although diverse, these paintings are unified by their manipulated shapes, gradation, and incorporated textures that evoke an emotional response. Art eternalizes moments in time, bits and pieces of all our journeys, and brings us closer to understanding the human experience."
Driven by her love of fabric, textures and bright colors, DePoyster studied apparel merchandising and design at the University of Arkansas in Fayetteville. In 2004, she decided to take her creativity in a new direction and enrolled in classes at the Arkansas Arts Center Museum School.  She quickly fell in love with the bright pigments of soft pastels and developed a love for painting with pastels on different types of paper, especially on textured surfaces that she creates.
DePoyster was an instructor in drawing and pastel at the Arkansas Arts Center Museum School for seven years. In 2012, she developed and implemented a therapeutic art program for Community Services, Inc., teaching at-risk youth in Conway and Russellville how to heal through art expression.  In 2016, she began providing art therapy services to children and adolescents in acute care at The BridgeWay. She has also facilitated professional development workshops for schoolteachers, focusing on how to add more art into their curriculum.
Her work has been exhibited throughout the United States and internationally in numerous group and solo exhibitions.  Her piece, Hay Field Glow, was awarded the Purchase Award from the Arkansas Arts Council and toured throughout Arkansas as part of the 2008 Small Works on Paper Exhibit.  Furthermore, her portrait, Diagnosis = Ovarian Cancer, was awarded honorable mention at the 50th Delta Exhibition at the Arkansas Arts Center.
Her paintings are included in private and public collections internationally and throughout the U.S. She and her husband, David, live in North Little Rock and they have two college-aged children, Grant and Anna.
Topics: About, Art, Community Events