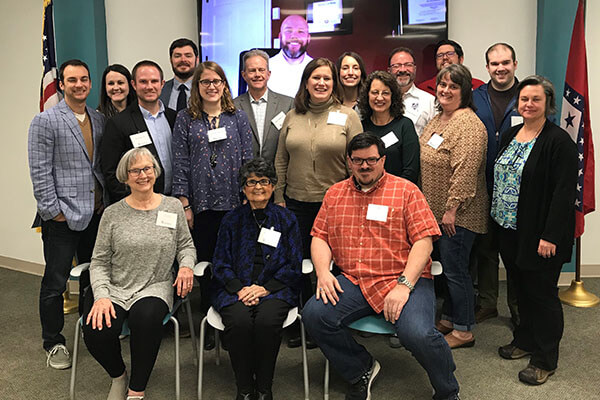 The University of the Ozarks Alumni Association elected nine alumni to join its board of directors during the organization's annual winter meeting on Feb. 23 on campus.
The new directors will begin their terms on July 1, 2019.
Those selected for three-year terms (Class of 2022) included Jordan Bass '07 of Lawrence, Kansas; Wendy Ballinger Blackwood '90 of Conway, Arkansas; Cori Dyson '97 of Jonesboro, Arkansas; Mark Pearson '13 of Fort Smith, Arkansas; and Zyanya Sanchez '10 of Chihuahua, Mexico.
Two alumni were selected to fill two-year terms (Class of 2021) — Irene Gillespie '70 of Little Rock, Arkansas; and Paulette Nieuwenhof '80 of Maumelle, Arkansas. Those selected to fill one-year terms (Class of 2020) were Brittany Brantley '13 of Fort Worth, Texas, and David Morris '83 of Springdale, Arkansas.
Also at the meeting, the association elected new officers for 2019-2020. Those included, Shannon Huggins '91 as president, George Pittenger '91 as vice president, Scarlett Morris '86 as secretary and Brandon Carlson '10 as treasurer.
Bass, who has a Ph.D. in sport management from Florida State University, is a faculty member and associate chair of the Department of Health, Sport and Exercise Sciences at the University of Kansas. He also is director of the sport management program at KU and serves as the vice president and associate general manager for Kaw Valley FC, a semi-professional soccer team. He and his wife, Robin, have two children, Julian and Charlotte.
Blackwood, who earned a master's degree in counseling psychology from the University of Central Arkansas, is the owner and CEO of Healing Path Counseling, a private practice mental health counseling business in Conway. She is a board member of the Arkansas Mental Health Counselors Association and has served as president of the association. Her husband, James Blackwood, is also a U of O alumnus and they were married in Munger-Wilson Chapel in 1990. They have one son, Jordan, who is a law student at the University of Arkansas.
Dyson is the medical director of WoodRidge Counseling Center in Jonesboro and also serves as an adjunct clinical preceptor at NYIT-Jonesboro. She has been working in Arkansas, much of that time in Jonesboro, as a psychiatrist since completing residency and moving back to her home state.  She lives with her wife and a menagerie of dogs and cats and spends much of her spare time painting.
Pearson has been a personal injury attorney for Taylor King & Associates in Fort Smith since 2017. A native of Johnson County, Arkansas, Pearson earned his juris doctorate from the University of Arkansas School of Law in Fayetteville. He is a member of the Arkansas Trial Lawyers Association.
Sanchez is a teacher of English as a Second Language (ESL) and history at a private high school in Chihuahua. She is also an ESL and business instructor at the Universidad Autónoma de Chihuahua. She plans to pursue a master's degree in education in the near future.
Gillespie is a staff member for the School Health Services unit of the Arkansas Department of Education, where she oversees the administrative operation of the unit programs. She previously worked in higher education as an associate dean of students, counselor and director of retention. She has taught in several vocational business institutions and adult education programs as well as on the junior high school level. She is active in the St. Mark Baptist Church where she serves as an associate minister in-training, member of the Sanctuary choir, Stephen Ministry leader and an intercessory prayer member.
Nieuwenhof is the executive director of the Arkansas Blood Institute, where she manages the daily operations of the non-profit blood bank in Central Arkansas. She also serves as the honorary commander of the Little Rock Air Force base. She previously was the business development director for The Poultry federation in Little Rock and was named in the 2018 Arkansas 250 publication as one of the state's top and influential business leaders.
Brantley is an associate attorney at Leach Fox Law in Hurst, Texas, where she focuses on estate planning and probate in the Dallas-Fort Worth area. A native of southeast Missouri, Brantley earned her juris doctorate from the Texas A&M School of Law in 2016. She and her husband, Grayson, live in Fort Worth with their dogs.
David Morris is the Northwest Arkansas Representative for the National Federation of Independent Business. Previously, he worked 25 years for Schwan's Frozen Foods. Morris has been an ordained elder in the Presbyterian Church for 32 years and has served in that capacity at several churches. His wife, Scarlett, is a 1986 graduate of Ozarks and is also a member of the U of O Alumni Board of Directors.
Several board members were re-elected to serve second terms including, Julie Bernard '03, Martha Efurd '56, Bill Ballard '56, Jesalyn Halsted '08 and Kaye Person '77. Other returning board members include, Ian Bryan '13, Bruce Williams '43, Amy Patton '10, Gary Perry '74, Courtney Taylor '09, Eric Steinmiller '02, Elizabeth Allcon '91, Mathew Arant '12, Lisa Gruben-Inness '93 and Sean Riordan '06.
Those board members whose terms will expire at the end of June include, Beth Duvall '65, David Ray '07, Mark Watkins' 76 and Tyler Wilson '11.
Created in 1967, the Alumni Board of Directors meets three times a year and is comprised of up to 30 U of O alumni who are volunteers. They dedicate their time in support of current students and faculty as well as in engagement of fellow alumni and recruitment efforts.