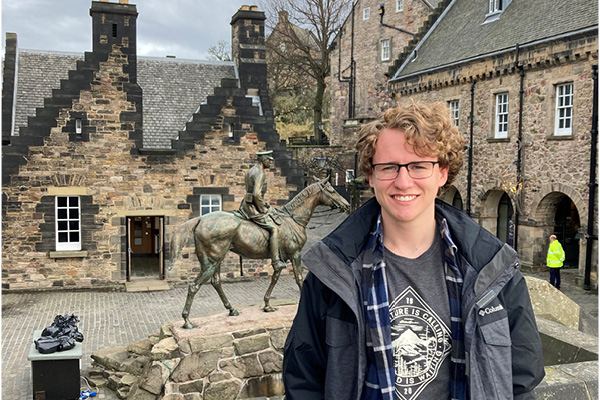 When University of the Ozarks senior Nicolas Dunsworth of Clarksville decided to add a second major in English to one in mathematics, even he didn't fully understand how the two completely different disciplines would complement each other.
Dunsworth, who is spending the Spring 2022 Semester studying abroad at the University of Saint Andrews in St Andrews, Scotland, will graduate next month with a double major in English and math. He said he decided to major in the two disciplines primarily because of his interest in the fields. But he's quickly discovered that they fit in quite nicely in his plans to pursue a career in data analytics.
"The two fields are very different systems of thought, and while I take a very analytical approach to both, the more rigid structure of mathematics and the more free-form thinking expected in English have given me a more well-rounded viewpoint than I would have had otherwise," Dunsworth said. "From a data analysis perspective, my education in English should help in giving me more tools, as data analysis and the study of literature have similar fundamental questions. Where in English I explore the question of what a text is saying on a deeper level, in data analysis the question becomes what data is telling me beyond a surface level. Mathematics was the career path I chose, and the English major allows me to defy stereotypes about mathematicians and our ability to communicate. I've found that math is what I love, but that English is a passion. "
Dunsworth (pictured above at Edinburgh Castle) has found the perfect location to complete his English degree requirements, studying British literature in the heart of the United Kingdom.
"Given that I'm studying English, and my background in English literature as opposed to American and world literature is somewhat lacking, it made a whole lot of sense," Dunsworth said. "It's been a great experience. St. Andrews places a much greater focus on poetry, drama and older British work. Overall, this experience has broadened my horizons and exposed me to new people. As I go forward into the world from Ozarks, I will do so having met people from diverse backgrounds that I wouldn't have been able to without this experience."
The experience includes being a part of the St. Andrews swimming team and having the opportunity to travel around Europe. The travelling opportunities were enhanced when the college's faculty went on strike for a period during the semester.
"Swim has been wonderful, and we've had a few really enjoyable weekend travel meets," he said. "On my own time, I spent most of Reading Week, about equivalent to spring break, in France, visiting Lyon and Paris. I had the opportunity to visit some friends and the cities and countryside were wonderful, and I had a great deal of fun. A friend and I also spent a week in Lanzarote, in the Canary Islands, as all of my faculty were either online or on strike. That was simply gorgeous. Having the opportunity to bike through volcanic landscape, visit amazing beaches, try Spanish food and improve my Spanish was invaluable."
Dunsworth credited several Ozarks faculty and staff for helping him secure the study abroad opportunity in Scotland.
"Dr. Danielle Young did both her master's and her Ph.D. in the UK and she recommended me a list of schools, and had nothing but glowing praise for Saint Andrews," Dunsworth said. "Nicole Justice was a great deal of help with general study abroad stuff, as I began figuring things out. Andrea Cooper was also a great deal of help with my résumé and personal statement as I was looking to apply. Dr. Matt Myers, my advisor for math, was really helpful as a sounding board as I played around with ideas on what the study abroad might look like. And Dr. Brian Hardman, my advisor for English, was extraordinarily helpful with figuring out what it might look like for me to do my senior thesis while abroad. He helped me in discovering and exploring what courses I might take, and to ensure that the experience would help me grow as much as possible as a scholar of English."
Dunsworth, the oldest child of U of O President Richard Dunsworth and his wife Holly, began taking classes at Ozarks at age 11 and became a full-time student at age 15. He will graduate with Summa Cum Laude honors (3.85-4.0 GPA) next month at age 18.
"It's been quite the wild ride, and I spent nearly all of my formative years at Ozarks," he said. "As a younger college student, especially as introverted as I was, there was always a certain disconnect between myself and my peers. Even by the time I could feasibly pass for a freshman I was in upper-level classes, maintaining a similar age difference. Despite that disconnect, I wouldn't trade my experience at Ozarks for the world. As the gap between my age and that of the younger students closed, I've made some wonderful friends who I hope I'll still know decades from now."
He said he is proud to have earned a college degree at the age when most students are beginning college.
"Ozarks has been a part of my life for a very long time now, and it's somewhat saddening to see that chapter of my life close," he said. "But at the same time, I'm prepared and excited for what life has in store for me next. If there's one thing I know about the end of this journey, it's that the 11-year-old that started classes years ago would be proud of the man I am today."
After graduating from Ozarks, Dunsworth plans to pursue a master's degree, concentrating in data science, while also working part-time in data analysis. He eventually hopes to secure a remote data analyst position that will allow him to pursue his new-found love for travel.
"My time at Ozarks formed most of my developmental years, and, as such, the education and community at Ozarks have helped to shape the person I am today," he said. "As I look back at pictures of myself when I took my first class, and even later, I've grown a great deal both physically and mentally. I've definitely grown out of my shell while at Ozarks and St. Andrews. More than anything, my time at Ozarks taught me how to think."
Topics: About, English, Mathematics, Student Stories, Study Abroad