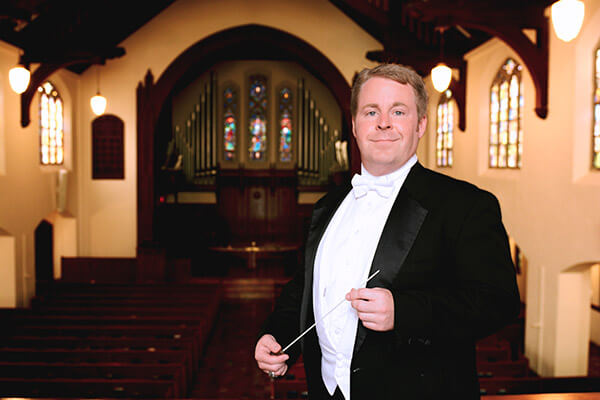 University of the Ozarks' new assistant professor of music and choral director, Dr. Jonathan Ledger, knows first-hand the powerful life-changing value of a liberal arts education, and he is eager to share those lessons with his students.
Ledger, who joined the Ozarks' faculty in August of 2016, said attending a small liberal arts college, Emory & Henry College in southwest Virginia, changed the course of his professional career and allowed him to pursue his true passion – music.
Growing up in rural Virginia, Ledger was musically inclined, even serving as a drum major in his high school marching band. But going off to college, he decided to pursue pre-medicine because it seemed like the practical thing to do.
"Coming from such a rural, isolated area, I didn't believe that I could go on to have a career in the performing arts and actually be able to support myself financially," Ledger said.  "I was interested in lots of different fields and I settled on a major in biology to prepare me for medical school and becoming a surgeon."
Dr. Jonathan Ledger was named assistant professor of music and choral director at University of the Ozarks in August.
Ledger stayed involved in music at Emory & Henry and soon found that conducting music ensembles was his true passion after taking an elective class in the discipline.
"The liberal arts setting was wonderful for me because I was able to be a valuable part of the top choral ensemble, Concert Choir, while pursuing a biology degree," he said. "I quickly rediscovered my love of conducting and excelled in the class.  I asked Professor [Mark] Davis, who was also our choir director, if he would give me an independent study in the fall and teach me privately.  He said that he would love that, and in the fall of my senior year I was spending far more time practicing my conducting than I was studying for the MCAT or applying to medical schools.  I began to realize that music was my true passion and calling in life.  I had always known this in the back of my mind, but this was the first time I was seriously considering it as a profession."
Ledger said his music professor had a major impact on helping him discern his vocation.
"I went into my conducting lesson one day and I asked Professor Davis if he truly thought I could have a career as a conductor and teach at the college level like he did," Ledger said. "He smiled and said, 'I really think you can.  You have some natural talent, and you definitely have the work ethic.  If this is your passion, you should do this.' That conversation changed my life.  I decided to finish my biology degree and stay at E&H for two more years to complete a music degree so that I could apply for graduate programs in conducting.  I conducted a piece on our spring tour that year, and I knew that that was what I wanted to do for the rest of my life."
After earning a master of music degree in choral conducting at Bowling Green State University in 2008 and a doctor of musical arts degree in choral conducting from the University of Alabama in 2015, Ledger is excited about being back on a small, liberal arts campus and sharing his passion for music with students at Ozarks.
"Everyone here including the faculty, staff, community members, and students have been so incredibly welcoming," he said. "The students are very bright and hard-working, and I look forward to coming to work every day simply because of their energy and positive attitudes.  I am very glad that I attended a small, liberal arts college for my undergraduate work, because I was encouraged to study many different disciplines and become a critical thinker.  I love the eclectic atmosphere and the versatile interests that students and faculty have in such a setting, and I am thrilled to be back in a liberal arts environment. "
Ledger said that for him, "music is all about people," which blends perfectly with his out-going and social personality.
"Music unites people in such a powerful way.  I love working toward a common goal with so many talented musicians and then sharing the fruits of our labor with even more people during performances and worship services.  I am very much a 'people person,' and music has given me the opportunity to connect with so many wonderful people throughout my life, so I feel very fortunate that I get to make music at such a high level and share my love of music with eager students through teaching.  I truly believe music is the language of the human soul, and it allows us to express thoughts and feelings in a way that is very unique compared to all other outlets."
In regard to conducting, Ledgers said he loves the feeling of mirroring, shaping, and guiding the sound of a group of singers performing as one entity.
"Conducting is very similar to dance in terms of the fluidity and energy of the motion and in the way that that the gesture is shaped to reflect and interpret the music," he said. "There is simply nothing better than getting to stand in front of a great choir and immerse yourself in their sound every day."
Ledger described his teaching style as high energy.
"I am always very passionate and excited about whatever I am teaching or conducting, so I tend to be very energetic in classes and rehearsals," he said. "Hopefully, my excitement rubs off on my students and keeps them engaged more easily in what we are doing. I always try to be upbeat and encouraging when working with students.  We've all had teachers or professors who are demeaning and overly critical, and that type of negative energy just causes most people to shut down.  I've always felt that it's important to show students that you care about their educational experience and their development as human beings, so I always approach everything from a positive manner when teaching.  That's not to say that I don't push my students in classes or rehearsals; they will attest that we work hard throughout the entire class or rehearsal, but we have a good time while doing it."
Ledger will lead both the 24-student Chamber Singers and the smaller Chapel Choir. Dr. Sharon Gorman, Walton Professor of Music and university organist, will direct the Women's Ensemble. There is also a student-led Glee Club on campus.
"The music program at Ozarks is focused on growth," Ledger said. "Our short and long-term goals all involve growing the program in one way or another.  This year, we are focusing on recruiting from our current student body and the surrounding regions.  We were fortunate to have a large pool of talented freshmen this fall.  I reached out to all of the incoming students with choral experience, and a lot of them have quickly become important members of our choral program.  I will be reaching out to high school choral directors in key recruitment areas, travelling to listen to their choirs and meet their students, and hopefully doing some workshops with their choirs so that they can get an idea of what it would be like to sing in a choir here.  Hopefully, after several years, we will have more music majors and minors, which will allow us to add more full-time faculty.  Then, we can offer new courses and tracks in the major and minor."
One change Ledger already has planned is to bring back a choir tour that was once a highlight of the program.
"The Chamber Singers will embark on a week-long concert tour at the end of the spring semester for the first time in a number of years," he said. "We will be travelling and performing throughout northwest Arkansas, northeast Texas, and southeast Oklahoma this year.  Over the next couple of years, we will also add a one-day honor choir event for high school students from all over the state, as well as a week-long music camp in the summer.  Hopefully all of these new initiatives will help us to recruit more students and grow the program."
Topics: Music