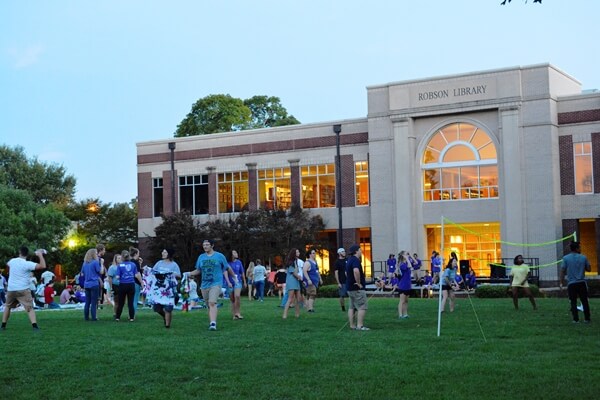 Bolstered by the largest incoming class in its history, University of the Ozarks' enrollment for the Fall 2017 Semester has reached an all-time high.
A total of 755 students are enrolled at U of O this semester, an increase of 10 percent over last fall and eclipsing the previous all-time high of 731 students in 2003. Enrollment has increased 29 percent since 2013 when 585 students were enrolled.
The incoming class, which includes first-time freshmen and transfer students, is 305, a 30 percent increase over the 2016 incoming class and the largest new class in our 183-year history.
"This is an exciting time in our long and rich history," said President Richard Dunsworth. "The record number of incoming students who value higher education and especially the value of an Ozarks education. Our administration, faculty, staff and trustees are committed to delivering on the university's mission of providing a high-quality, Christian, private college education to students from diverse backgrounds and preparing them to live a full life."
Dunsworth said enrollment has been energized by a five-year tuition freeze and a mission-driven approach to financial aid.
"Disciplined price management is part of an ongoing strategy to keep an Ozarks education affordable for both current and future students and to reduce the amount of debt our students incur," Dunsworth said. "We were able to develop and implement a sound financial aid strategy in line with our mission of serving and preparing students from diverse backgrounds. We also continue to grow in so many positive ways, including broader academic opportunities, increased international partnerships and enhanced facilities."
Reggie Hill, assistant vice president for advancement and director of enrollment management, said the university has placed a renewed emphasis on the Arkansas River Valley area in recent years. This year's student body includes 166 students from the River Valley counties of Johnson, Pope, Conway, Franklin, Logan and Crawford. The incoming class has 36 students from our home county, Johnson County.
"It's about building relationships, the human element to enrollment," Hill said. "We've placed an emphasis on building better relationships and letting high school students in this region know what we have to offer. Students don't have to leave Johnson County to receive a top-notch education."
This year's enrollment is also one of the most geographically diverse in our history with 135 international students coming from 23 countries, including, Belgium, France, Haiti, Panama, Mexico, the Bahamas, Honduras, Rwanda, El Salvador, Nicaragua, New Zealand and South Korea. We also have students from 32 states and the U.S. territory of Puerto Rico.
"Our institution truly mirrors a global community," Hill said. "Approximately 18 percent of our student population comes from outside the United States and that's extremely beneficial to our campus community. We believe our students from Arkansas have something to teach the world and that our students from around the world have something to teach our local students."
Hill said the reasons students choose Ozarks include location, a sense of community, and an opportunity for customized educational experiences.
"We are finding that students love the natural environment and outdoor opportunities that this area has to offer," Hill said. "That and the fact that they can be a part of a close-knit campus community and receive a personalized education make Ozarks an attractive choice."
Other facts about the Fall 2017 Semester enrollment: 48 percent (366) of the student population comes from Arkansas; 42 percent (317) are considered student-athletes and compete on one of the 21 men's and women's intercollegiate athletic teams; 102 students (14 percent) from Johnson County; and 88 students (12 percent) call Clarksville home.
Topics: About, Academics, Admission, Campus Life