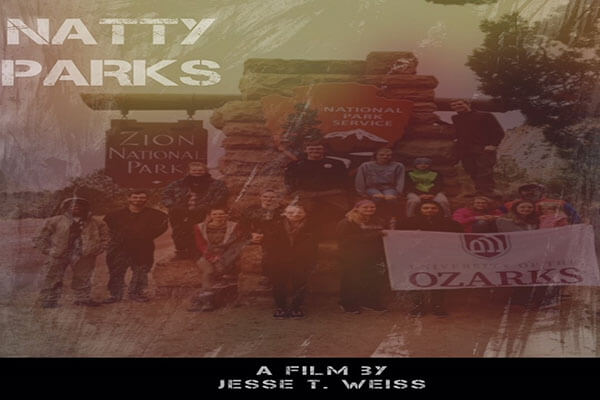 University of the Ozarks Professor Dr. Jesse T. Weiss will premiere his documentary, "Natty Parks," on the Ozarks campus at 7 p.m., Wednesday, Oct. 3, in the Rogers Conference Center's Hanna Room.
The film was written, directed, filmed and edited by Weiss, professor of sociology and environmental studies.
The documentary chronicles the journey that capped Weiss' Spring 2018 National Parks course as students and faculty members travelled by road into the west to visit the national parks they had studied. The class traveled 3,500 miles, through seven states to visit nine national parks in 10 days.
The film features Ozarks students Derric Davis, Jake Sawyer, Cat Thompson, Christina Waddle, Jonathan Barham, Tristian Leonard and Erika Henderson as well as Dr. Warren Sconiers, assistant professor of biology at Ozarks.  It also features original music recorded and produced by Neal Harrington, professor of art at Arkansas Tech University.
"Natty Parks" was selected to screen at the 48th Annual Arkansas Sociological and Anthropological Association (ASAA) meeting at Hendrix College in Conway, Ark., on Nov. 2.
The Oct. 3 premiere on the U of O campus is open to the public and there is no charge for admission. Cast members will be on hand to answer questions during a panel discussion that will follow the film's screening.
Topics: About, Environmental Studies, Film Studies, Outdoors, Sociology