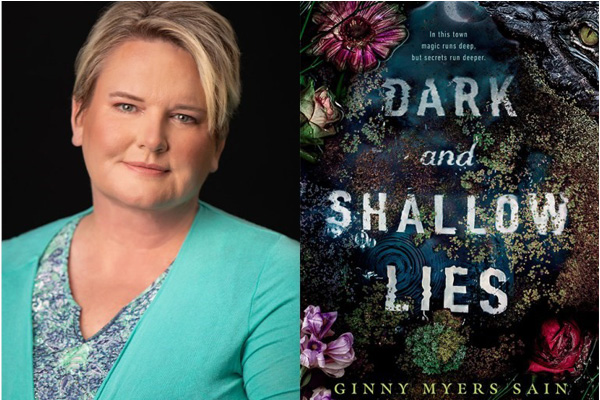 University of the Ozarks alumna and author Ginny Myers Sain '95 will present an on-campus book signing and a virtual speaking event about her debut novel, Dark and Shallow Lies, on Thursday, Dec. 2.
Presented by the Office of Alumni Engagement, the book signing will be held in the Ozarks Exchange bookstore in the Robson Library from 11 a.m. to 1 p.m. The virtual speaking event will be held at 6 p.m. via Zoom. The speaking event can be accessed here:
https://ozarks-edu.zoom.us/j/92400064146?pwd=bW9UbTk2b0V3Zi9ibXp2QUFvdDNlUT09
Sain's debut young adult mystery novel was released in September of 2021 from Razorbill Books, an imprint of Penguin Random House. The book received a starred review from Publisher's Weekly and was an Independent Bookstore Bestseller for the month of September.
Dark and Shallow Lies is a supernatural thriller about a teenage girl who disappears from her small town deep in the bayou, where magic festers beneath the surface of the swamp like water rot.
New York Times bestselling author Jessica Goodman said of Sain's book, "Haunting and arresting, this is one stunning debut. Ginny Myers Sain has written a totally engrossing small-town mystery about what happens when you finally dig up long-buried secrets."
Author Diana Urban, said, "Enchanting and chilling at once, you'll instantly get sucked into this atmospheric tale of kindred spirits brimming with secrets that could tear them apart. Ginny Myers Sain's haunting, lush, lyrical prose will keep you captivated till the end."
Sain is also working on a second book that will be out next fall.
Although she comes from a long line of writers, Sain's first love has always been the theatre. She has a degree in theatre from U of O, and has spent most of her career teaching, acting and directing plays and musicals.
Sain spent 17 years working on the U of O campus as the director of the Stages Youth Theatre program and the head of the Walton Arts and Ideas Series. She currently lives in Tulsa, Okla., with her teenage son, Paul, and a very cowardly Doberman named Shipley. When she is not working in the theatre or writing, you are likely to find her listening to true crime podcasts, taking pictures of alligators, eating tacos, or planning a trip to Walt Disney World.
Sain's book will be available for purchase in the Ozarks Exchange Bookstore for $12 on the day of the event.
Topics: About, Alumni, Creative Writing / Thought, English