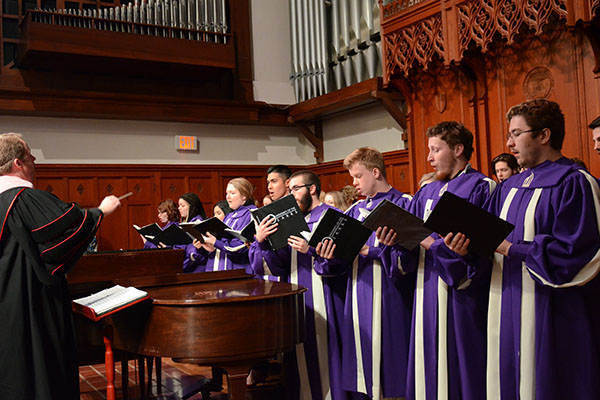 The University of the Ozarks music department will present its annual time-honored Christmas tradition, A Service of Lessons and Carols, at 7 p.m. on Thursday, Dec. 6, in Munger-Wilson Chapel.
The concert will be preceded by a Community Christmas Reception featuring snacks and refreshments from 5:30 to 7 p.m. in the lower level of the Chapel. The public is invited to attend both the reception and the Service of Lessons and Carols, and there is no charge for admission.
The service will feature all three University choirs, which include Chamber Singers and Chapel Choir, both conducted by Dr. Jonathan Ledger, assistant professor of music, and the Women's Ensemble, conducted by Dr. Sharon Gorman, Walton professor of music.
Gorman will also be featured on organ and piano during the prelude, hymns, and postlude.  Bethany Qualls, adjunct instructor of piano, will accompany the Chamber Singers.
The event will include scripture readings by University students, faculty and staff. A wide variety of music to reflect on various Advent and Christmas scripture readings will be performed, along with congregational hymns that audience members can sing along with.
Among the works the choirs will perform include, "Lo, How a Rose E'er Blooming (with Of the Father's Love Begotten)," "O Come to Us, Emmanuel," "Mary, Did You Know?," "Breath of Heaven," "Keep Your Lamps Burning," and "Hallelu."