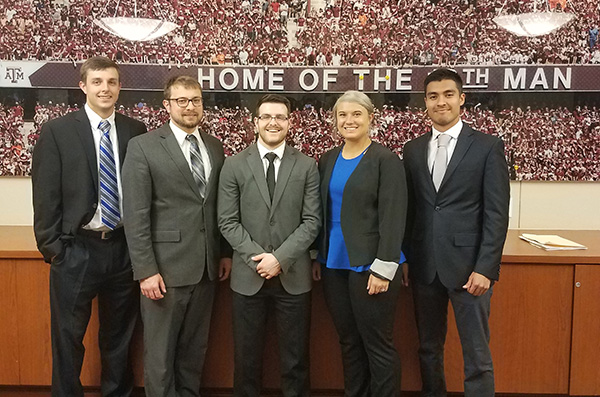 Four University of the Ozarks political science students had an opportunity to hone their legal research, analysis, debate and oral advocacy skills in a competitive environment this past weekend.
The students competed in the American Moot Court Association's South Texas Regional tournament, held Nov. 4 at the Texas A&M University School of Law in Fort Worth, Texas. The two-person teams of Ozarks students Brittanie Gragg and Joel Cuevas and Adam Winter and Ben Hall participated against 30 teams from 12 other schools throughout the region.
This is the first time students from Ozarks have competed in a moot court competition, according to Dr. Mark Scully, assistant professor of political science,
"Taking part in this type of competition has opened up some of our students' eyes to the possibility of law school, while helping them develop skills such as public speaking, research and debate," he said. "There's no substitute for this type of experience for students who are thinking about law school and we're excited about having had this opportunity."
Scully said the students took the initiative in the university's participation in the event.
"It was a student-led effort and they did most of the prep work leading up to it," Scully said. "I was very impressed with their sense of independence and responsibility throughout the process. We all learned a lot from this experience and it can only help us as we look forward to competing in more of these types of events in the future."
Topics: Political Science