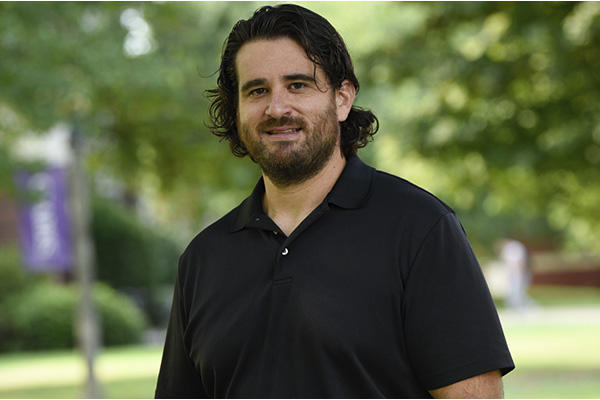 Dr. Sergio L. Molina has been appointed as the University of the Ozarks' new faculty athletics representative (FAR), the University announced on Friday, Feb. 11.
Molina, an assistant professor of physical education, will serve as the liaison between the faculty and athletics department and will report directly to U of O President Richard Dunsworth to ensure academic integrity and the welfare of student-athletes. He will also represent Ozarks with the National Collegiate Athletic Association (NCAA) and the American Southwest Conference (ASC).
"Dr. Molina's experience as a coach and exercise science faculty member, coupled with his commitment to the Division III student-athlete experience, makes him an natural fit for the faculty athletics representative," Dunsworth said.   
Molina will complete the term of Dr. Stewart Dippel, who served in the position from 2019 until his passing in January.
"I am honored to serve in this capacity and excited to work with the coaches, staff and student-athletes along with other NCAA and ASC representatives," Molina said. " As the faculty athletics representative, one goal is to continue to promote student-athlete success in the classroom, in athletics and in the community. Another goal is to further foster the relations between coaches, faculty and student-athletes."
Molina joined the Ozarks faculty in July of 2021.  He has taught as an adjunct professor at Missouri Western State University in St. Joseph and Northwest Missouri State University in Maryville. He has also been an assistant professor in the Department of Health, Physical Education and Recreation at Missouri Western State.
Molina also has nearly a decade of high school and college coaching experience in football and track and field, including a stint as a defensive coordinator at Southwestern College in Kansas where he also served as an adjunct instructor.
"Dr. Molina has been a coach and instructor at both the high school and collegiate levels and he understands what it takes to be a successful student-athlete," said U of O Athletics Director Jimmy Clark.  "I look forward to him working with Ozarks Athletics to create a positive experience for our student-athletes and to help them graduate."
A native of Wichita, Kan., Molina earned his bachelor's degree in exercise science from Wichita State University in Kansas before earning a master's degree in physical education from Pittsburg State University in Kansas. In 2015, he earned his Ph.D. in physical education pedagogy from University of South Carolina.
Nearly 300 students compete in the 20 varsity sports offered at Ozarks.