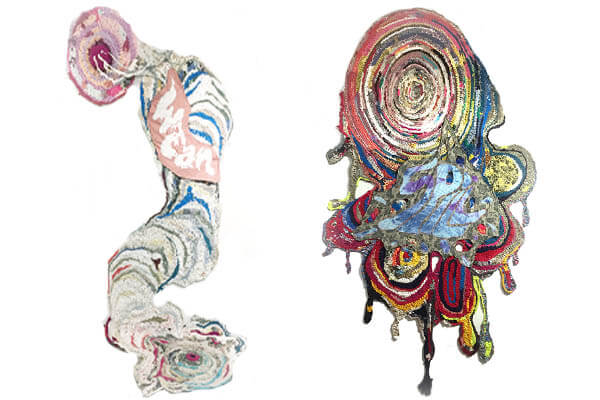 University of the Ozarks' Stephens Gallery will host the exhibit, "Spoiled," by Missouri printmakers and educators Hannah and Blake Sanders from Jan. 22 through Feb. 22 as part of the University's Artist of the Month Series.
There will be an artists' talk from 4-5 p.m. on Feb. 22 in Baldor Auditorium and a reception to meet the artists from 5:30-6:30 p.m. on Feb. 22 in the Stephens Gallery. The events and gallery are open to the public and there is no cost for admission.
Hannah and Blake Sanders teach drawing, printmaking and art education at Southeast Missouri State University in Cape Girardeau, Mo. In their artists' statement, the Sanders said that humanity's threat to the lasting viability of Earth was the force behind their work in "Spoiled."
"Much of the art we currently create is an acknowledgement of our complicity in ecological waste and destruction. These works provide a garish reminder of how our growing family, and the creature comforts that go with it, have a negative impact on the environment. We employ printmaking and traditional craft media to discuss how conventional notions of family, domesticity, and success affect our behavior as consumers and planetary neighbors. To practice what we preach, we use green methods and reused materials whenever possible. For example, all the material employed in the fiber works has been recycled or repurposed from various sources."
They said their work is both an indictment and celebration of domestic bliss.
"Recent collaborations deal explicitly with the joys and trials of toddlerhood. The toddler metaphor is particularly apt as our society, which obviously needs to be changed, seems to be backsliding; we are less likely to share, more likely to throw a fit! The vibrant colors and bold shapes should evoke the garish effects of our mayhem on the planet as we extract, abuse, consume, and pollute. They also reference the thankfully exhaustible energy of the child, and the reserve of energy discovered by the parents during naps and cuddle time. To extend the family/environmental metaphor even further, parents/citizens must be diligent as we follow behind—cleaning up messes and teaching better habits—to preserve a happy home. The future is uncertain, and anxiety is the norm, but this work should evoke a feeling of comfort in our discomfort, hope in our hopelessness."
About the artists
Blake Sanders is an adjunct instructor at Southeast Missouri State. He earned his BFA from University of Northern Iowa and an MFA from Tulane University and has taught art and printmaking at universities, as well as workshops at colleges and community-based art organizations around the United States. Recent juried exhibitions include the third Global Print 2017 in Douro, Portugal; neo-print prize 2016 in Bolton, UK; the 35th Bradley International Print and Drawing Exhibition; the 25th Parkside National Small Print Exhibition; and the 2017 Delta National Small Prints Exhibition. His work supports environmental mindfulness by illustrating the bond between people and the natural world.
Hannah March Sanders is an assistant professor in the Department of Art and serves as the area head of printmaking at Southeast Missouri State. She is also the letterpress area coordinator of Catapult Press at arts entrepreneurship venture, Catapult Creative House, in Cape Girardeau, Mo. Sanders is currently the managing editor of the Mid-America Print Council Journal. The Sanders operate http://orangebarrelindustries.com/, an artist collaborative that organizes portfolio exchanges, exhibitions and other art events. She has exhibited work in group exhibitions across the globe in Estonia, Ireland, Japan, and New York. Recent solo and duo exhibition locations include University of St. Mary in Leavenworth, Kan.; College of the Sequoias in Visalia, Calif.; Gadsden Museum of Art in Gadsden, Ala.; and the Arts Council of Southeast Missouri in Cape Girardeau.
Topics: Community Events, Exhibit