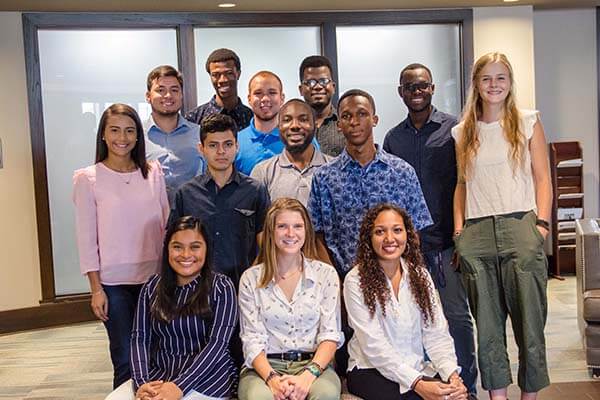 Thirteen University of the Ozarks students from six different countries and representing a variety of majors from around campus are coming together this semester as part of a global fellowship program. Their goal is to help improve food security on campus.
The students were selected as 2019 Millennium Fellows. The fellowship is a semester-long leadership development program developed as a partnership between the Millennium Campus Network and the United Nations Academic Impact (UNAI) initiative. Fellows are leading projects that advance the United Nations' sustainable development goals and the UNAI's principles in the students' communities and beyond.
The Class of 2019 includes 1,092 Millennium Fellows from 69 campuses across 16 nations. Ozarks was among only 6% of the world's higher education institutions selected to host Fellows this year.
The U of O Fellows include, Jarret Bain, a junior psychology major from The Bahamas; Yailin Blackman, a senior business administration major from Panama; Ohany Roman Blandon, a senior accounting and management major from Nicaragua; Melissa Brenes, a senior business administration major from Nicaragua; Petron Brown, a sophomore environmental studies and theatre major from The Bahamas; Ralph Jean-Pierre, a business administration major from Haiti; Misael Perez-Medina, a sophomore mathematics major from Clarksville; Hendrick Octavius, a sophomore business administration major from Haiti; Rebecca Peterson, a junior environmental studies major from Coweta, OK; Kenia Roa, a sophomore business administration major from Costa Rica; Richard Rodriguez, a junior business administration and political science major from Nicaragua; Kengor Thermozier, a sophomore biology major from Haiti; and Christina Waddle, a junior environmental studies major from Pleasant Hill, MO.
Blandon and Rodriguez are serving as co-directors for the group and took the lead on writing the proposal and organizing the team. The group's faculty advisors are Dr. Kim Van Scoy, professor of environmental studies and sustainable agriculture, and Dr. Allison Freed, assistant professor of education.
The U of O group's project is called, "Student Initiative on Food Security," and is aimed at improving food security for vulnerable students at the University. They will meet regularly throughout the semester with their campus cohorts to network, learn from each other and develop a range of leadership and professional skills such as grant writing and strategic planning.
Blandon cited a 2019 study by the U.S. Government Accountability Office that reported that between 9 and 50 percent of college students have faced food insecurity.
"At this University, there is a significant population of students who are at risk of food insecurity, especially during the holidays and breaks when the cafeteria closes," said Blandon. "This was a project that we felt like we had the resources to take on and one that we felt could be impactful. We feel like we can come up with effective strategies where students can work hand-in-hand with other members of the campus community to help alleviate this problem and make a difference for many students."
The diversity of the group is one of its strengths, according to Rodriguez.
"We wanted to find students who were already working on, or at least aware of, the problem and could bring different perspectives to the team," Rodriguez said. "Some of the students work in food banks, some work with the campus garden and some have been personally affected by food insecurity. We really didn't go into it planning to have such a diverse group, but that's kind of how it turned out. I definitely think it's a plus."
While the fellowship technically just runs through the fall semester, Blandon hopes to continue the project through the academic year and beyond. One of the ways he plans to do that is to create a permanent campus working group.
"We believe this is something that shouldn't just be a short-term project," Blandon said, "We want to develop something that is going to be sustainable and that will make a difference for many years to come, so we don't just want to work on it this semester and then stop. We're looking at this is an ongoing project."
Topics: About, Campus Life, Community Events