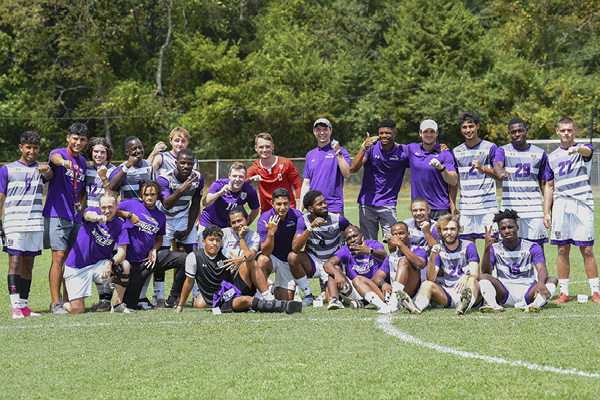 The University of the Ozarks men's soccer team received their 2020-21 American Southwest Conference Championship rings in a special ceremony on Aug. 28 prior to the alumni match.
Designed by Baron, the ring features the University logo in the center with the words ASC Champions surrounding the logo. The players' names are on the side.
"It was definitely a special day for the program," said head coach Aaron Brueckner. "When they opened the box and first saw the ring, the look on their faces said it all. That is what you work for. I've never been prouder and I was full of joy for the guys. I expressed to the team again how thankful I was and how happy I was for them. It was their day."
Brueckner said the alumni present were especially happy for the program.
"They were so happy and proud of the team," he said. "This brings excitement into the alumni base. They talked about how the championship was accomplished on the road."
Members of the team that received rings included: Logan Valestin, Caleb Anderson, Rigo Resendez, Daniel Gomez, Jonathan Julmiste, Jean Claude Antoine, Lorfils Milord, Omar Garcia, Truman Hensley, Drew Mott, Pedro Gallaga, Colin Cosby, Jonathan Smith, Charleus Emmanuel Ritch, Tapiwa Manhungo, Alain Claude, Daniel Lyon, Ruaya Zamora, Jackson Rogers, Kyle Seymour, Harry Hilton, Sebastien Bathard and Andrew Duncan.
The Eagles had a strong run through the ASC Championship tournament during the spring, topping Mary Hardin-Baylor on penalty kicks, defeating rival Hardin-Simmons 2-1 and then posting an impressive 3-1 win over top-seeded Concordia University Texas.
Accolades poured in for the Eagles as the program racked up nearly every conference award, including ASC Offensive Player of the Year and ASC Midfielder of the Year (Drew Mott), ASC Defensive Player of the Year (Kyle Seymour), ASC Goalkeeper of the Year (Logan Valestin) and ASC Defensive Freshman of the Year (Colin Cosby). Aaron Brueckner won ASC Coach of the Year. Nine players earned First Team All-Conference: Drew Mott, Logan Valestin, Kyle Seymour, Jonathan Julmiste, Charleus Emmanuel Ritch, Truman Hensley, Lorfils Milord and Alain Claude. Aaron Brueckner, Stewart Mena and Tanner Young won the United Soccer Coaches Regional Coaching Staff of the Year.