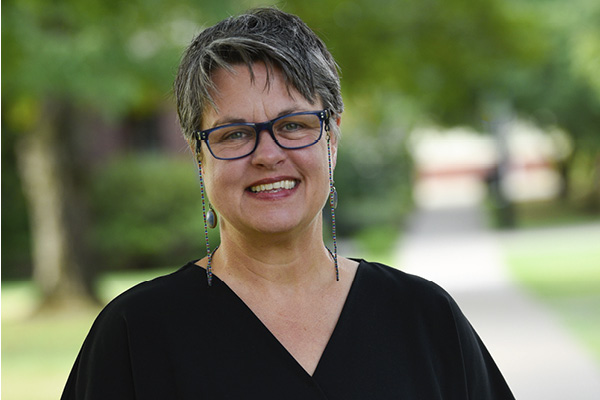 Meet Your Alumni Board Members is an ongoing series where we highlight members of the Alumni Association Board of Directors. This month we are featuring Lisa Gruben-Inness, a 1993 graduate of Ozarks. Lisa has worked at Ozarks for a total of 15 years, including stints as director of Smith and MacLean residence halls, director of the Walton Arts & Ideas Series and office manager for the Jones Learning Center and for the Division of Natural Sciences and Mathematics. She currently serves as the operations coordinator of the physical plant. Lisa was the 2018 recipient of the University's Arnold G. Sims Outstanding Staff Award.  Her husband, Jeff Inness, is a 1998 graduate of Ozarks.
Tell us about your time at Ozarks. What did it mean to you? How did that time change or impact your future?
On a lark, I visited Ozarks with my friend, Gloria Garrison, who was being recruited for the tennis program by Coach Lonnie Qualls.  At the time I didn't I really didn't know what I wanted to do after high school but college was the next step; where ever that took me is where I would go. Ozarks had such a family feel to it and was so diverse and friendly – the campus was beautiful and the town was just the right size to feel at home. I loved that I felt like I could try anything on campus. I could explore things that interested me and could discover new interests that I wasn't aware of. I didn't feel pigeonholed into one thing, and to me that was a gift. It was the gift that impacted my future the most because it helped me not put limits on myself.
Why is being involved with Ozarks after you graduated important to you? Why have you chosen to give back to the University, both financially and with your time?
Ozarks is family; it is an extension of myself. Not being connected to it would be like ignoring a part of my personality. By giving financially to this organization, I am investing in its future and in my history. By giving of my time, I am staying connected to where Ozarks is today, what its challenges and celebrations are and where it is trying to go.
What is your favorite Ozarks memory?
I was a theatre geek but one of my favorite on-campus memories is of Lessons and Carols. It was a multi-day event with the hanging of the greens, and decorating the Chapel for the multi-night concert.  It was an event that was hard to get a ticket to. The lighting of the candles for singing Silent Night always gave me goosebumps.
Who was your favorite/most impactful professor at Ozarks and why?
Speaking of performances, my favorite professor was Dr. Pat Farmer, Walton Professor of Theatre. He had such an energetic teaching style and made history so interesting.  He could riff about theatre history for hours. He was a one-man powerhouse, building a theatre program and motivating a group of students to help him do it from the ground up; building on the legacy of Mrs. Susie Maude Pittman. He believed in hard work and making the most of every opportunity.  This is where I had the opportunity to explore all parts of a profession and decide what I wanted to pursue. I was able to build a career in production management, based on the experiences that I had at Ozarks.  Dr. Farmer became one of my dearest friends over the years. He hosted my wedding and also gave me away to my husband, fellow alum Jeff Inness.
Why have you chosen to continue to serve Ozarks by serving on the Alumni Board?
Serving on the Alumni Board has given me the opportunity to get to know so many other great and faithful alumni from different eras and backgrounds with the shared experience of Ozarks.
What is your favorite Clarksville or Johnson County activity?
I always loved driving the backroads just to see where they went. It seems so simple, but it is such a relaxing thing to do. We would find little trails and creeks to explore and find neat camping spots.
Anything else you would like to add about Ozarks?
I would encourage my fellow alumni to donate their time or funds in some way that means something to them.  At a minimum, I would encourage you to come back sometime and visit and see what has changed and what has stayed the same.