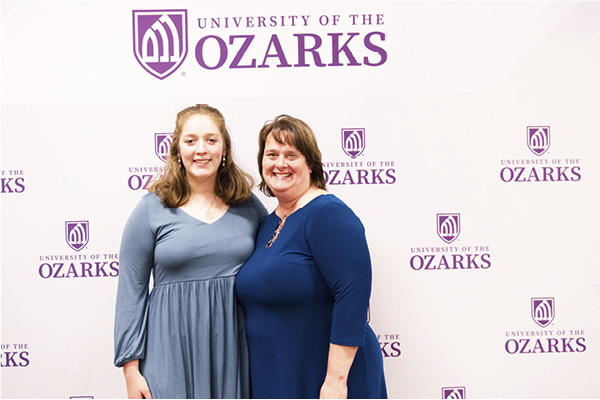 Meet Your Alumni Board members is an ongoing series where we highlight members of the Alumni Association Board of Directors. This month we are featuring board member Elizabeth (Thames) Allcon '91 (pictured above, right, with her daughter, Laura). Elizabeth is a 1991 graduate of Ozarks who is an elementary school teacher living in Benbrook, Texas. Her parents, the late Rev. Jimmie Thames '52 and Laura Ann (Self) Thames '52 were both Ozarks graduates, as are her brothers Alan Thames '80 and Jeff Thames '85. Elizabeth's daughter, Laura, is a senior at Ozarks and will graduate in May 2022. The Thames family was honored by the University with the Alumni Legacy Award in 2018.
Tell us about your time at Ozarks. What did it mean to you? How did that time change or impact your future?  
My time at Ozarks was a very special one. I was following in my family's footsteps, yet forging my own path. It was incredibly meaningful to walk the steps that my parents, brothers, cousins and sisters-in-laws had, and wondered if I would make some of the same life-changing decisions they had. I chose to help others by becoming an elementary school teacher and in such a small setting,  I truly believe I was a better teacher because of the time my professors were able to spend with me honing my skills. I choose to be involved with Ozarks now nor only as an alumni, but as a parent. My daughter will graduate in May.
What is your favorite Ozarks memory?
My favorite Ozarks memories always include those who are my lifelong friends. Study Night Breakfast is one of those.
Who was the most impactful professor you had at Ozarks and why?
The most impactful professor for me was probably Dr. Michael Farrell. Not only was he my professor for chorale and other music courses in my minor, but he was also my boss. During my four years at Ozarks, I served as the secretary to the music department. It was during this time that I helped to schedule the many daily activities and trips that the choir took as ambassadors for the University. This experience helped me during my career to be able to schedule and supervise many students and staff during daily activities. Scheduling is not a course you take in preparation classes, but a skill that is refined by actions taken daily. I owe much gratitude for being able to practice this in my undergraduate setting as it helped me to excel in my 30-year teaching career.
Why have you chosen to continue to serve Ozarks by sitting on the Alumni Board?
I was raised with strong values of giving back to those who have helped to shape my life. My parents, who attended Ozarks, chose to leave their estate to the college. I decided it was important for me while I was still living to give back to the college that is helping students who resemble the student that I was so many years ago. My wish in doing this is that the institution will help so many more for years to come. These thoughts are what drive me to serve on the Alumni Board.
What is your favorite Clarksville or Johnson County activity?
Clarksville and Johnson County definitely shaped my time while at Ozarks. Some of my fondest memories were with friends eating at the South Park truck stop after studying late at night. Laughter and smiles were always in full supply.