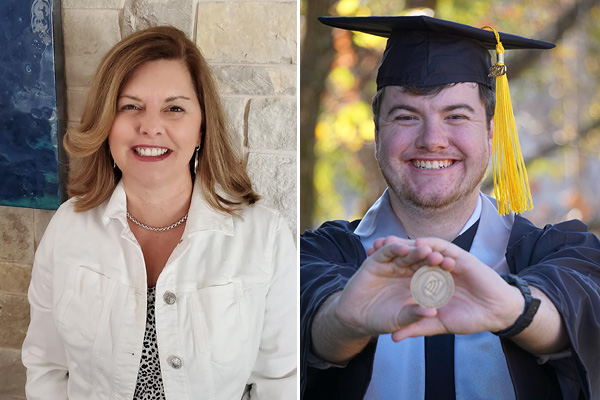 When Steve McGaw of Dallas, Texas, began looking for a way to honor his wife, Beth, for her 60th birthday, he found the perfect answer through a program that was close to their family's hearts: The Jones Learning Center at University of the Ozarks.
Steve established the Beth McGaw Career Experience Program Endowment at U of O earlier this year in recognition of his wife's milestone birthday as well as to honor her career in helping students who learn differently. The endowment will support students in a JLC program that helped their son, Brad McGaw (pictured, right), earn a college degree in 2020.
"Beth inspired me," Steve said. "She has spent much of her adult life helping youth with learning disabilities find their best paths forward. The JLC had a profound impact on our son, Bradley, who attended school at Ozarks, left for another school, and then came back. The JLC showed us how, with the right accommodations, a young man like Bradley could excel."
A steadfast advocate for students who learn differently, Beth (pictured, left) changed career paths several years ago from industrial engineering to education. Since that time, she has dedicated her time and talents to assist students who learn differently and to help ensure that they have the same opportunities and experiences that other students have.
"After Brad was diagnosed with specific learning disabilities and attention issues, I became an outspoken advocate for him and other children with learning disabilities," Beth said. "I believe early intervention is the key to success, which has proven true for Brad."
While the family was living in Atlanta, Beth co-founded Kids Enabled, a resource for parents with learning differences, and served as the publisher and executive director from 2006-2012. After the family moved to Dallas in 2010, she served on the Learning Disabilities Association (LDA) of Texas and LDA of America Board of Directors. She served as LDA president from 2018-2020. She currently sits on the board of LDA of Texas, the Learning Disabilities Foundation of America, and a local nonprofit board, StandUpLD.
Beth also works with high school students and young adults as an independent educational consultant (IEC) through her company, LaunchPad Consulting Group. LaunchPad specializes in helping students with LD/ADHD/ASD in the college planning and career discovery process using a strength-based approach.
"As an IEC, it has been rewarding to guide my students to choose their best-fit college or career path and see them soar," said Beth, who has a master's degree in adult education from the University of Missouri-St. Louis.
The McGaws said they hope their gift to the JLC establishes a new growth vector for students of Ozarks by providing opportunities to receive training and enrichment opportunities to help prepare them to succeed within the business world.
"My own work experience during college helped me build conviction about my chosen degree and fundamentally shaped my career trajectory," said Steve McGaw. "I'd like to help JLC do the same for students at University of the Ozarks." 
"The introduction and placement into the workforce is a whole different challenge when students like Bradley are approaching graduation," Steve McGaw said. "They also need someone to help them qualify and find the right jobs with the right companies. Frankly, the companies need help knowing how to match young people with relatively minor disabilities with the right positions. So this program that we are sponsoring is a beautiful match between Beth's passion for helping youth find their best paths forward and JLC's next great opportunity to support a large community of career-ready students."
Dody Pelts, vice president for student success and director of the JLC, said the funds from the endowment could be used for such resume-building experiences as student wages, expenses incurred while completing internships, job coaching and additional career preparation training.  
"The McGaws' gift to the JLC will provide opportunities for our current students to receive important job coaching and career experiences that best fit their interests and learning needs while also continuing on their path to a bachelor's degree," Pelts said. "One of the JLC program's strengths is the ability to customize support to a student's needs, and the McGaw program will now allow for that individualized support to broaden into a hands-on career preparatory experience. We are very excited to begin the program in the fall."
The McGaws said that they are proud that their son, Bradley, graduated from Ozarks with a degree in health science and minors in art and physical education. He is working as a physical therapy aide at a Dallas clinic.
"The Jones Learning Center was instrumental to Brad's success and completion of his degree," Beth McGaw said. "The individualized attention he received from his coordinator, Debbie Carlton, tutors, and faculty was invaluable to his success in college. Brad is now using what he learned both inside and outside the classroom, and enjoying life with his girlfriend, Lakota, another Ozarks grad, and his dog Maverick."
The JLC is celebrating its 50th anniversary this year of serving students with documented learning disabilities. The first-of-its-kind comprehensive program in the nation, the JLC offers academic support to students who are intellectually capable of obtaining a college degree, but who also need support to accommodate for learning challenges caused by specific learning disabilities, AD/HD, or ASD.
The McGaw Career Experiences Program is an ongoing commitment to serve students in the JLC. If anyone would like to make a donation to the program, they can contact Lori McBee, vice president for advancement and alumni engagement, at lamcbee@ozarks.edu or 479-979-1354.