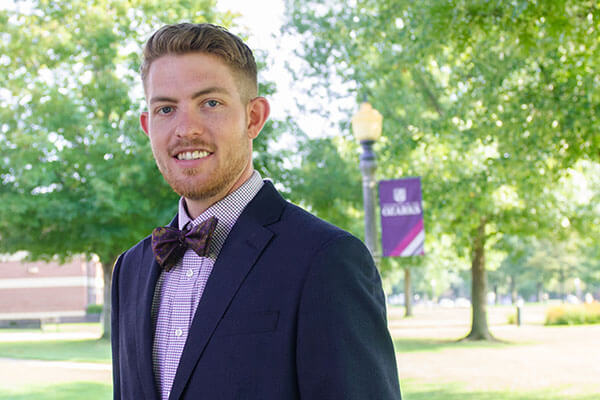 Justin McCormick has joined University of the Ozarks as the new associate director of alumni engagement.
McCormick will be a part of the University's Advancement and Alumni Engagement Office and, working with the director of development and alumni engagement, will lead Ozarks' alumni relations efforts. He brings experience in event planning, fundraising and managing volunteers.
He most recently served as events and tours manager for the Peel Compton Foundation in Bentonville, AR. Before that he was the coordinator of Parent and Family Programs at the University of Arkansas from 2017 to 2019. He also served as a graduate assistant in the Office of Greek Life at the University of Missouri from 2015 to 2017. In all of these capacities, McCormick engaged in fundraising and relationship building.
"I am honored and excited to work with the amazing network of alumni who have established their commitment to Ozarks, while assisting in the expansion of alumni engagement opportunities for future graduates," McCormick said. "My hope is to bring my knowledge of working with students, alumni and families from other institutions and apply it to a University that means a great deal to the area that I love."
McCormick earned his bachelor's degree in journalism from the University of Arkansas and a master's degree in educational leadership and policy analysis from the University of Missouri.
"I am looking forward to finding engaging ways for our alumni to stay connected to Ozarks and bring innovative ideas to the table," he said. "Working with diverse individuals in a higher education setting is my passion. This position will allow me to work directly with current students and alumni so that they know how important they are to the University and its mission."
A native of nearby Altus, McCormick and his husband, Jerred, have been married for a little over a year and have one son, Hayden. His hobbies include, being outdoors, hiking, four wheeling, kayaking and traveling to new places with his family.
He is also an animal lover, with three dogs and two cats. He is an advocate for children in foster care and children with disabilities and also dabbles in event planning, photography, interior design and florals in his spare time.