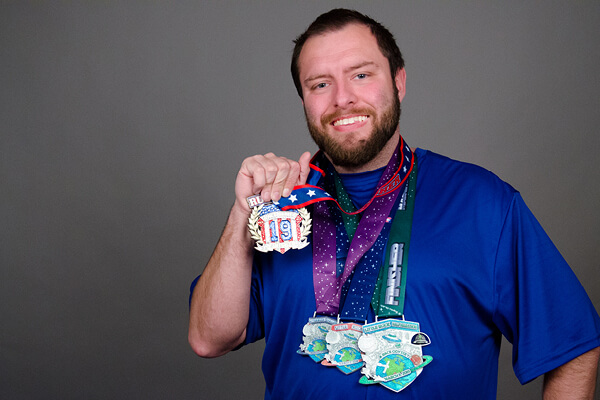 "Why be disabled when I can be me."
That's the personal mantra of University of the Ozarks Assistant Professor of Mathematics Dr. Casey Orndorff, who on Sunday completed the Little Rock Half Marathon in a time of 1:59:27.
Orndorff, 28, believes he's the first person with cerebral palsy to break the two-hour barrier in the 13.1-mile distance.
"I don't want my disability to define me, so accomplishing this goal is something I'm very proud of," said Orndorff, who is in his second year of teaching at Ozarks. "I've always enjoyed running and I don't want somebody to say I can't run or that I can't run competitively because I have cerebral palsy."
Orndorff ran a 2:13 in his only other half marathon attempt in 2018. This time, following a rigorous 10-month training program and with the assistance of one of his U of O colleagues, Ricky Perry, assistant professor of health science, he maintained a 9-minute pace on his way to breaking the mark.
"Ricky paced me the entire way and encouraged and motivated me throughout the race," Orndorff said. "The 11-mile mark was really a struggle for me and I was laboring, but Ricky kept me going. There's no way I would have broken two hours without his help."
Orndorff overcame race temperatures in the 30s and steady sleet to break two hours. He said the final mile was one of the toughest and most challenging things he's ever experienced.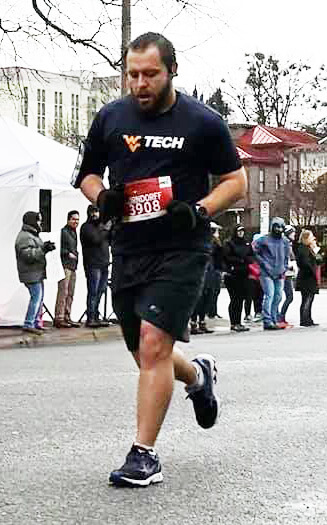 "My coordination was gone and I was literally at my limit," he said. "I wanted that two-hour mark badly so I was determined to get there. I had my head down and I was just forcing my body to take one step at a time."
The previous fastest known half marathon time for a person with cerebral palsy was 2:03:49 by Justin Gallegos of Santa Clarita, Calif.
Cerebral palsy is a neurological disorder that affects muscle coordination and body movement. There are varying degrees of cerebral palsy and it can affect individuals in different ways. According to the Cerebral Palsy Foundation, one in three people affected by cerebral palsy are unable to walk.
While Orndorff is able to walk and even run, his journey to completing a half marathon under two hours did not come easily. While running, the disorder affects Orndorff's right side, which often leads to severe tightness and cramping in his right leg. He's also prone to injuries to his left leg while over-compensating for his right leg.
"It sometimes takes me a while to get loosened up and I have to really listen to my body," he said. "I'm certainly susceptible to more injuries and that can make it difficult to maintain a regular training routine, but that's when you just have to push through."
Orndorff ran cross country at West Virginia Tech, a small NAIA college. He joined the team as a walk-on and went on to earn a scholarship, serve as a team captain for four years and garner Capital One All-American Academic honors.
After taking several years off from running while completing his advanced degrees at Louisiana Tech University, Orndorff decided to get back into running after moving to Clarksville in 2018.
"I wanted to get in better shape, so I decided to start running again," he said. "The first mile I ran after starting back took about 14 minutes, very slow. I knew then that I had a long way to go, but I was determined to keep running."
Ironically, one of the people who helped Orndorff get back into running was former U of O Cross Country Coach and Ozarks alumnus Jeremy Provence, who ended up winning the 2019 Little Rock Marathon. Provence is currently the head cross country at the University of North Alabama,
"Jeremy helped me get back into running and a lot of friends and colleagues have supported me along the way," Orndorff said. "I hope this will motivate other people to keep pushing beyond their limits because I uncertainly pushed well beyond mine."
Topics: About, Academics, JLC, Mathematics