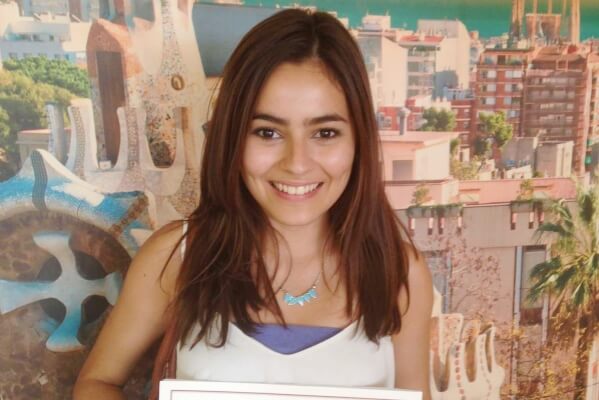 Debora Castro took Europe by storm during the summer of 2015 and she'll never be the same because of the experience.
Castro, a senior management and international business major from El Salvador, spent six weeks over the summer working in an internship with Cocoa Communications, a marketing and communications agency in Barcelona, Spain. Working 9 a.m. to 2 p.m. four days a week, Castro gained beneficial real-world experience as an assistant accounts manager for the marketing firm that deals primarily with the healthcare industry.
"I was working with a team on specific campaigns that the agency was pitching to companies," Castro said. "I got to be involved in the initial meetings, the development of the campaigns, the proposal stage, and then the implementation stage. It was incredible to be a part of the entire process and to see how it all works. I tried to learn and absorb as much information as I could."
Debora Castro honed her business and marketing skills during an internship with a communications company in Barcelona, Spain, during the summer of 2015.
It was Castro's first experience working in the business industry and she quickly realized that corporate communications is a field that she wants to pursue.
"I had been thinking about going into the corporate communications area in grad school and now I'm sure of it," Castro said. "I think this internship showed me that my personality and interests are a good fit for the communications field. I found that I love to help clients come up with ideas and ways to promote and help their businesses."
In addition to affirming her career aspirations, Castro discovered that the experience also changed her.
"I definitely came back a more confident, independent, creative and open-minded person," she said. "Traveling to a completely different continent by myself, staying within a budget, and making decisions on my own, all that definitely made me a more independent and confident person. Meeting so many different people and different viewpoints also opens up your mind in so many ways. It let me know that the possibilities and options for me are endless."
Castro said she can't wait to bring her internship experience back into the classroom during her senior year at Ozarks.
"It's going to have so much more of an impact on me now that I can relate my experiences to what I'm learning in a marketing or international business class," Castro said. "I can talk about specific examples now that I believe can help enhance the entire class."
In her first trip to Europe, Castro spent every waking minute soaking up the culture and enjoying the experience.
"When I wasn't working I was exploring the city or taking trips to other parts of Europe," Castro said. "I wanted to see and do as much as humanly possible. I had a plan and a list of things I wanted to see, but I even exceeded my expectations. I couldn't believe I was able to see so many things in such a short time."
Staying an extra week past her internship, Castro had the opportunity to visit Italy as well as Paris, London and Lyon.
"I had read and studied so much about these places and it was amazing to finally get to see them," Castro said. "I fell in love with Barcelona and the history and culture as well as the food and weather there. Venice also impacted me a lot. To see the canals for the first time was amazing."
One of her most memorable experiences was her co-workers throwing her a 21st birthday bash.
"To celebrate my 21st birthday in Barcelona with new friends was incredible," Castro said. "I couldn't think of a better way to turn 21."
The internship, through CISAbroad, was funded in part by the University's Academic Enrichment Fund. Castro also received guidance and support from several of her professors.
"You can't do an experience like this all by yourself. I had a lot of help," Castro said. "Without the help of the Enrichment Fund and my professors, this would not have happened."
Castro documented her experience in a blog titled "The Anecdotalist," which can be found at https://theanecdotalistdeb.wordpress.com/
Topics: Business Administration