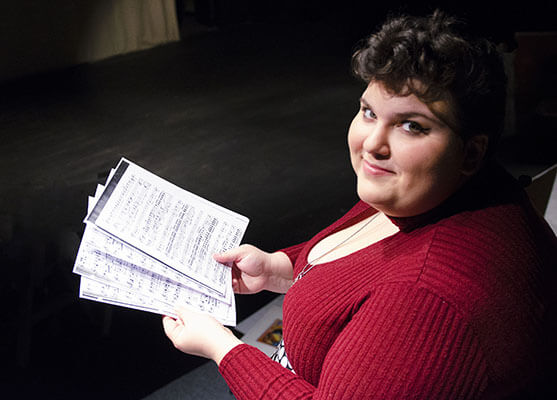 Megan Ahne's main goal when she sings is to make her audience members feel something.
"I want them to feel happy, sad, angry, elated or blissful when they hear me. I want to affect them with my performance," she said. "I remember after one performance, a mom came up with her little boy and told me that during my song her son just could not stop smiling. He was just grinning ear to ear. It made me so happy to hear that I put a big smile on that little boy's face with just my performance. That is my goal. I do not want them to just listen and say that she is a good singer. I want them to say that she really made me cry on that one song or that I laughed so hard during that one song."
The University of the Ozarks senior music major from Ozark, Ark., has been entertaining audiences with her powerful and moving mezza-soprano vocals ever since she first performed in front of her church congregation as a 10-year-old. Over the past four years she has delighted and moved audiences as part of the University Chamber Singers and Chapel Choir.
She will perform her senior recital at 8 p.m. on Monday, April 23, in Rowntree Recital Hall and then plans to pursue graduate studies in music at Bowling Green State University following her graduation in May.
Finding her voice
Though she loved singing as far back as she can remember, it was her piano teacher and church choir director, Amy Sexton, who saw Ahne's potential and encouraged her to take voice lessons.
"Even though I loved singing, I was so shy that I did not want anybody to hear because I did not want them to say I was a bad singer," she said. "I knew that I liked it but I also knew that just because you like something does not mean you are good at it. So, I did not sing for anybody other than my parents. Then one day during piano lessons, Ms. Sexton heard me singing and insisted that I take voice lessons. From those lessons, I built up enough courage to sing a solo in front of the whole church. From there, I started to believe I was good at singing. Though, I certainly did not think it would be career path until much later."
Ahne, who played in the band as a junior high and high school student, said she quickly found her musical niche as a classically trained vocalist.
"It is such a rush to go in front of a group of people and make music. There is something much more personal about singing than playing an instrument for me," said Ahne, who plays the piano and clarinet. "This may not hold true for someone who is only an instrumentalist, but for me singing is so very personal. I am using my voice to perform. I am using my voice to tell a story. It is such a wondrous feeling to show people my voice and then to hear that they love it."
Local celebrity
Ahne said her most memorable performance at Ozarks was during the 2016 All Hallows Eve Concert when she dressed up as the villainous Octopid sea witch Ursula from The Little Mermaid movie and performed a stirring rendition of "Poor Unfortunate Souls."
"It was the first time in a performance that I just really got into the role," Ahne said. "I really understood for the first time how to perform a song instead of just singing it. I had been having trouble with that since I started at Ozarks. I just felt really uncomfortable moving while singing, but this song really helped me break out and be more comfortable performing."
She still gets recognized around the community for that memorable performance.
"There are times when I am just doing normal, everyday things and someone who was at that concert suddenly asks me if I was Ursula," she said. "It has happened several times. Of course, it makes me happy that they can recognize me without all of the Ursula makeup on and that they are going out of their way to tell me that they really enjoyed that performance from months or years ago."
Ozarks experience
Ahne credits the music program at Ozarks for helping her hone and develop her talents and gain a stronger understanding and appreciation for music.
"The music literature courses helped to broaden my knowledge of music history and of the great composers," she said. "Musicianship classes have also really helped with my knowledge of music theory and its many rules. I did not even understand fully what chord progressions were in high school. The biggest help has been my voice lessons with our adjunct voice professor, Natlynn Hayes. She has helped my voice and performance grow so much in the last four years. I thought I was good when I got here, but looking back, I did not know anything. My skill has grown leaps and bounds since coming to Ozarks. Of course, I still have plenty of room for improvement, but I am so much better than when I got here."
Outside of music, Ahne said her time at Ozarks has helped her grow as a person and a leader.
"Out of high school, I was still quite shy and awkward, and I really avoided having to deal with people whenever I could," she said. " Ozarks did not allow me to be like that. It really helped that a lot of people here are so friendly, which helped me break out of that shell and be friendlier. It was not like an overnight change. It was quite slow. Throughout most of my freshman year I was still pretty reserved. At the beginning of my sophomore year, I was asked to help the Glee Club in a leader role. I could not refuse it and suddenly I was having to be a leader for the club. I think that year I really became more sociable and I became a better leader. At the end of that spring, the Glee Vlub voted me as vice president. I was elated. Everyone liked and respected me to the point that they wanted me as the vice president. It was an amazing feeling. From then on, glee was our thing."
Looking forward
Ahne plans to pursue a graduate degree in vocal performance at Bowling Green and then chase her goal of becoming a professional singer.
"I am not completely set on a specific type of music, but I am leaning towards being an opera singer. Operas are just super fun," Ahne said. "But to be honest, I really don't care. I just want to perform music."
Topics: Music