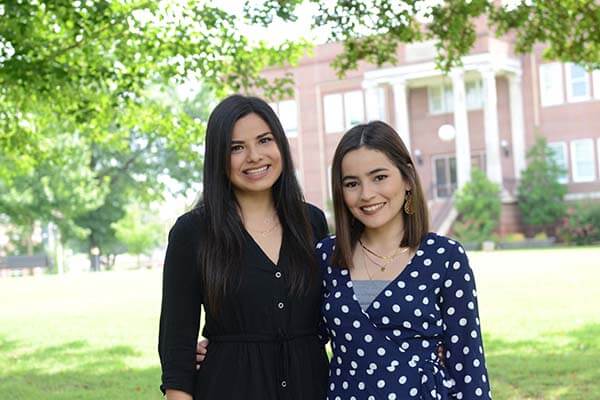 Though they're doing it in markedly different ways, 2016 graduates Liliam López and Debora Castro are each using their University of the Ozarks business degrees to make a positive impact in their respective Central America countries.
The two former Walton International Scholars visited campus recently and talked about their professional careers.
López, (pictured, left) a marketing and management/business administration major living in Choluteca, Honduras, is an analyst coordinator for the Agrolibano Group, one of the top cantaloupe-producing companies in the Americas.  Castro, an international business and management major living in San Salvador, El Salvador,  is a partnership/advocacy technical assistant for a USAID project called Bridges to Employment, which helps at-risk youth in the country gain training and find employment.
The Agrolibano Group exports more than 4,000 large shipping containers of melons each growing season, which runs from December to May. While the fruit is shipped around the world, about 50 percent of the melons head to either the United States or Europe. López is the coordinator of the Great Britain account, handling financial reports, quality control and customer service.
López, who has worked for the company for almost three years, said it is especially satisfying to know that she is helping to promote and advance Honduras through her work.
"I'm really proud when I hear about melons from Honduras that are eaten around the world," she said. "People will send me pictures of the stickers and it's really neat to see. I know the passion that the growers in Honduras have for their melons and I know the work that is done to produce them, so I'm especially proud to play a small role in producing something that is in demand all over the world."
López credited Ozarks' diverse student population for helping her prepare to work for a global company.
"At Ozarks, you learn to get along and interact with so many different cultures and that's been very beneficial to me," she said. "I work with clients from all over the world and I strongly believe that my time at Ozarks has helped me in my daily interactions with my clients. Ozarks helped instill in me a cultural sensitivity and openness to others."
Castro has worked for almost three years for the non-profit Bridges to Employment project, which is funded by USAID and implemented by DAI Global, LLC.  The program works with at-risk and vulnerable youth between the ages of 16-29 in El Salvador to "successfully integrate them into the workforce as fully qualified and productive citizens to help boost the economy, lower crime, and reduce illegal immigration."
Castro said the type of work she is doing is what she envisioned when she first came to Ozarks as a Walton Scholar.
"When I was selected as a Walton Scholar, I had dreams of going back home and helping my country, but I didn't know exactly what that would look like or how I could do that," Castro said, "Now I'm working with a program which uses national and international cooperation that, working together, we actually change things for the better. It's very fulfilling, professionally, for me because I'm contributing to the development of my country and actually making an impact. That's exactly what I wanted to do."
Castro said her time at Ozarks and her involvement in service-oriented organizations like Enactus, PBL and Alpha & Omega helped her understand and appreciate the importance of giving back.
"The volunteering and service opportunities I had at Ozarks really opened my eyes to the impact that we all can have on others," Castro said. "My desire to help others was definitely boosted at Ozarks and now that's what I do for a living. My education and experiences at Ozarks prepared me perfectly for this."
Topics: About, Alumni, Business Administration, International, Management