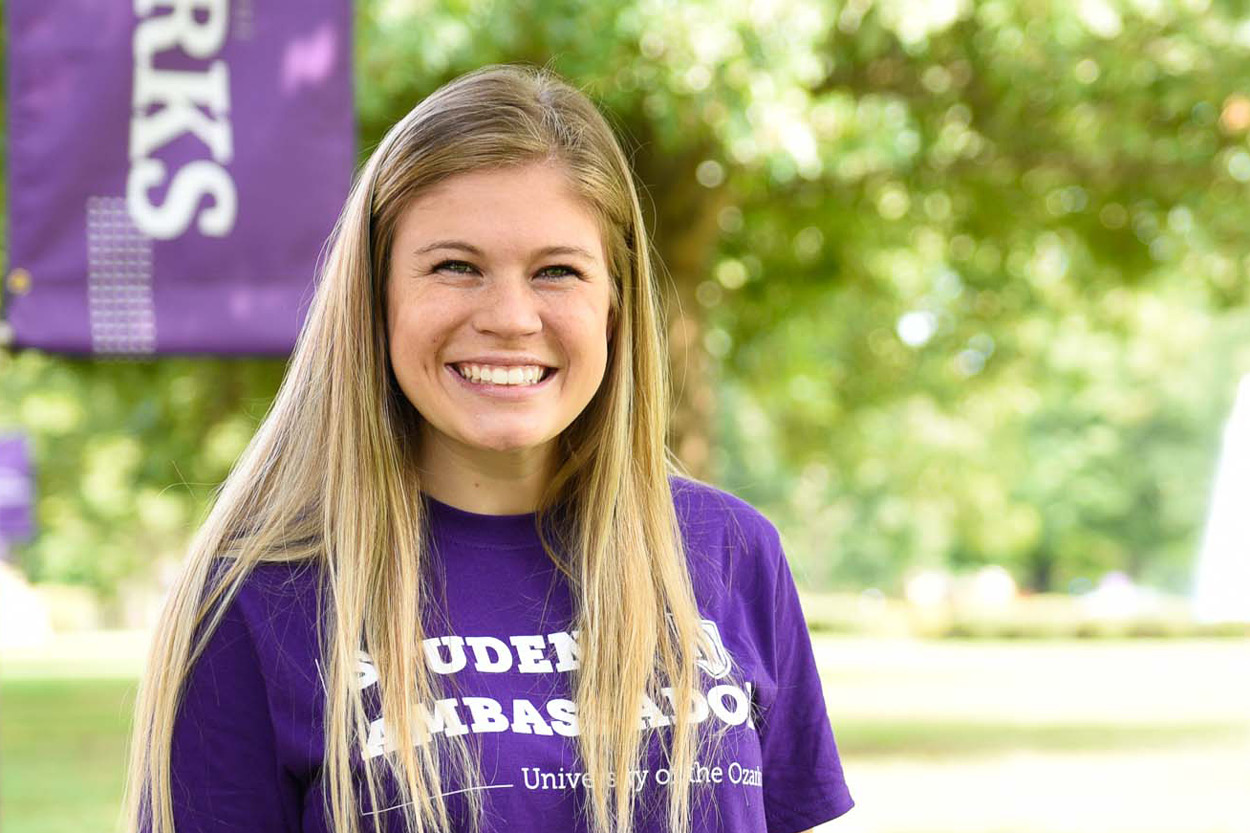 Joelle "Joey" Long's career path was laid out to her when she was diagnosed with lupus at the age of 10.
"That moment brought an interest to me at a young age on how the body works and why," said Long, a University of the Ozarks senior from Cabot, Ark.. "I knew then that I would have a career in medicine."
Long will graduate this December with honors in biology. She has been selected by the faculty and staff to serve as the student speaker during the Fall 2020 Commencement ceremony, scheduled for a virtual format on Dec. 19.
Following graduation, Long will pursue a career as a physician assistant.
"My goal is to get into graduate school in a physician assistant program and get my master's degree," said Long. "I chose that career because I have always had a passion for medicine and for helping people and to achieve my goal of being a mother as well as succeed in my career it made the most sense. After shadowing a PA, I immediately saw myself doing this and I can't wait until I get to start the next chapter in that area. I love to help people and I will always use my knowledge and abilities to do so."
With a major in biology, Long took advantage of the University's unique LENS program to earn minors in chemistry, Spanish and business administration, a diverse array of disciplines that she believes will enhance her career opportunities.
"I think the diverse education in all three areas of the LENS will really make me a better applicant for graduate school and future job interviews," Long said. "It really makes people have a double-take when they see my major and minors. I've learned a lot in all of those classes and even if I don't use that knowledge in my career, I believe it's made me a more well-rounded person."
Long said she chose Ozarks because of the soccer program. She has been a standout on the soccer field for the past three years, earning all-conference honors all three seasons and serving as a two-time team captain.
"I first learned about Ozarks from women's soccer coach Natalie Dreyer, who came and talked to me after a soccer tournament," Long said. "I immediately liked it for the small family-like environment. I knew I would be able to make forever connections and learn in a better environment versus a larger school."
In addition to playing soccer, Long has been a student ambassador as well as a member of the Ozarks Biological Society and the Tri Beta honors society. She has also shined in the classroom and will graduate in 3½ years.
"I have grown a lot since I arrived at Ozarks, as a leader and as a person," Long said. "I have gotten a lot of experience working with other people in the classroom and in my organizations. The thing that helped me most is the relationships I have built. Being at a school where I can have a personal relationship with my professors has made it easier for me to be a better student. When they know my capabilities and my intelligence they are more willing to assist and help when I am learning. I felt more comfortable asking for papers being proofread and recommendation letters being written because I am confident that they know who I am and what I have achieved academically."
Long said that despite the inconveniences caused by the Covid-19 pandemic, she has remained on course to realizing her goals thanks to her professors and coaches.
"I think that family and community are huge here at Ozarks and I know that professors like Dr. Sean Coleman helped me realize that," Long said. "He saw my potential and helped me with writing my CV and a letter of recommendation for getting into a summer internship and later again with my graduate school application. Dr. Amy Oatis has supported my soccer career and always lifted my spirits before and after soccer games, just knowing she was there watching and supporting. Coach Dreyer has believed in me since before I got here, telling me that my talent needs to be seen for four more years. Even with Covid, my professors have been doing a great job at getting students engaged, whether that be on Zoom or in person. I couldn't be happier with my decision to come here to the Ozarks and finish my soccer career and continue my education."
Long is known around campus for her infectious smile and friendly, outgoing demeanor. As a student ambassador, she can often be seen giving enthusiastic tours of campus to prospective students and their parents.
"I can say whole-heartedly that the Ozarks has been a blessing in my life," Long said. "I have grown as a person, a student, a friend, a soccer player, a leader and in life. I have always been told that I am a smiley person, but to be enthusiastic and put all my emotions in tours about what Ozarks has done and who we are is an amazing feeling. I hope that I am making a difference in these families' lives, whether that be Ozarks or not. I truly hope they find their home away from home like I did and are as enthusiastic as I am about the school and life and what is to come. God has always had a plan for me and I can't wait to see what is next."