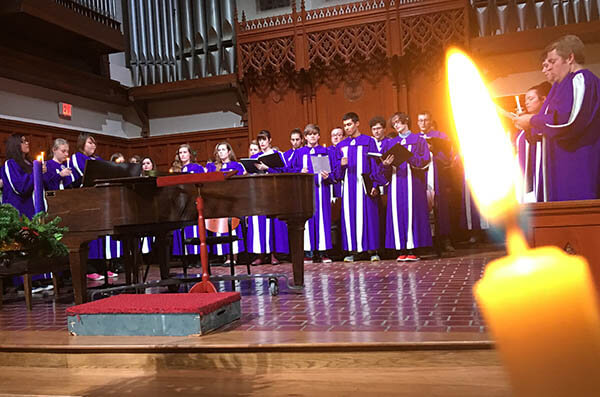 University of the Ozarks' time-honored Christmas tradition, A Service of Lessons and Carols, will feature an added bonus this year as members of the Conway (Ark.) Symphony Orchestra will take part in the concert.
The event, which is a part of the 2017-18 Walton Arts & Ideas Series, is scheduled for 7 p.m. on Thursday, Dec. 7, in Munger-Wilson Chapel. There will be a community Christmas reception with refreshments following the concert in the lower level of the Chapel.
The public is invited to attend both events and there is no cost for admission.
The University's choral ensembles, the Chamber Singers and Chapel Choir, will collaborate with members of the Conway Symphony Orchestra in the annual service that includes traditional hymns and scripture readings.
The music for the service will be selected movements from Part I of Handel's Messiah, considered the most famous oratorio in history. Dr. Jonathan Ledger, assistant professor of music and choral director, will conduct the symphony members, choirs, and student and staff soloists in some of the most beloved choruses, recitatives, and arias from the oratorio.
The service will also feature Dr. Sharon Gorman, Walton professor of music and University organist. The concert will include several congregational hymns and a candle-lighting in which everyone will be invited to participate.
The Conway Symphony Orchestra, under the direction of Israel Getzov, is in its 32nd season this year. With a full season of concerts, outreach ensembles, a mix of international and local guest artists, and performances ranging from classical to Christmas, the orchestra provides high-quality, orchestral music, plus a wide array of educational programming, to the central Arkansas community.
Topics: Community Events, Traditions