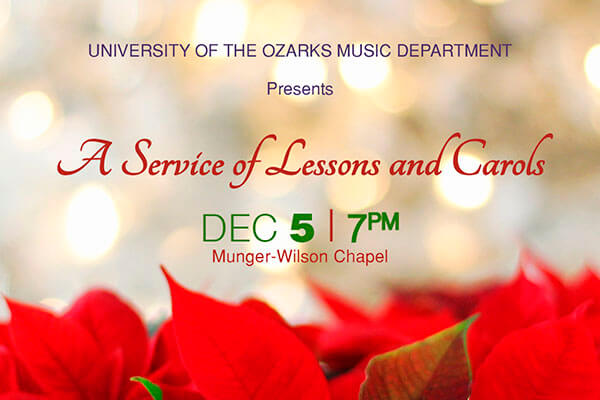 The University of the Ozarks music department will present its annual time-honored Christmas tradition, A Service of Lessons and Carols, at 7 p.m. on Thursday, December 5, in Munger-Wilson Memorial Chapel.
There is no cost to attend the concert and the public is invited to attend.
The service will feature both University choirs, which include the Chamber Singers, conducted by Dr. Jonathan Ledger, assistant professor of music, and the Chapel Choir, conducted by Dr. Sharon Gorman, Walton professor of music. Gorman will also be featured on organ and piano during the prelude, hymns and postlude.
Bethany Walker, adjunct instructor of piano, will accompany both choirs. Alex Williams (oboe) and Ger Vang (flute) will also perform with Chamber Singers.
The event will include scripture readings by University students, faculty and staff. A wide variety of music to reflect on various Advent and Christmas scripture readings will be performed, along with congregational hymns for which the congregation will be invited to sing.
Choral anthems will include "Bogoroditse Devo," from the All-Night Vigil by Sergei Rachmaninoff, O magnum mysterium by Tomás Luis de Victoria, The Shepherd's Lamb by Dan Forrest, and others.