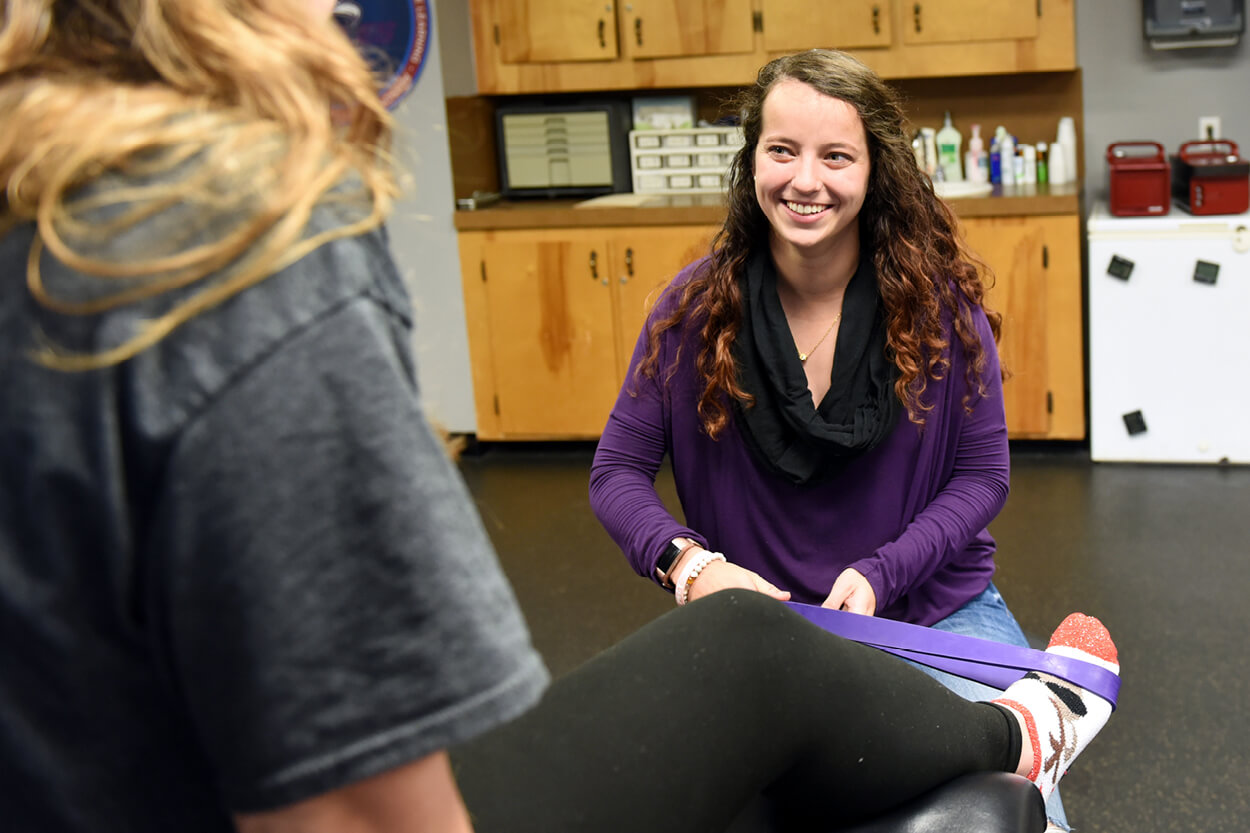 Rebecca McCarron just may be the ideal poster student for the University of the Ozarks' LENS program.
The senior from Covington, La., is graduating on Saturday with Magna Cum Laude honors with a major in health science and minors in English and business administration. The unique combination of disciplines is a trademark of LENS, which stands for Learning Environment for New Synthesis. LENS was implemented at Ozarks in 2016 as a new academic model to provide students a more customized and diverse educational experience. It allows students to choose a major and two minors, all from different academic divisions.
McCarron, who plans to pursue a career in occupational therapy, said her particular areas of study fit perfectly within both her personal interests and career ambitions.
"I originally chose health science as a major and business administration as a minor in order to be an occupational therapist who could run her own practice," McCarron said. "English came into the picture because literature is a hobby of mine. Over the course of my years here, I realized my major taught me the science, but my minors taught me how to communicate more effectively with others and to be able to analyze and assess situationally. I believe they fit together nicely because, like the LENS program was intended, I am able to pull knowledge and information from any of the areas to have different perspectives for any given situation. I think that will be beneficial in a career that is always evolving. I appreciate that in my LENS arsenal I am able access the scientific, the hard line of rationale and the creative."
A member of the women's soccer team for four years, McCarron earned all-conference honorable mention honors as a freshman before a string of knee injuries kept her off the field and in the training room for most of the next three seasons. That experience of rehabbing and recovering was the impetus for her career choice and is something she believes will make her a better occupational therapist.
"As I was going through my clinical experiences, I definitely found myself relating to patients that I observed, even more than I thought I would," McCarron said. "I hope to have a career in the pediatric occupational therapy field, and I chose this path because I wanted to help individuals, especially the youth, find a independence within themselves that they may have thought wasn't possible because of a disability or illness. Believing in yourself and working to achieve your goals is an amazing feat. I want to be able to help others accomplish those feats."
McCarron said the injury experience also helped put things in proper perspective.
"I've just learned to appreciate every second of everything I get the opportunity to participate in," she said. "I used to have a mindset that I 'had' to do this or that but now my mindset has changed to 'I have the chance to' or 'I am able to.' You never realize the things you take for granted until you lose the ability to do them all together. I also learned that you can still be a part of something without being the biggest contributor. I like to consider myself the glue to the team these past few years because I was able to bring everyone back together for one purpose and that was to be grateful for the opportunity to play collegiate soccer."
Serving as a student ambassador and an Ozarks Experience mentor, McCarron was one of the University's biggest cheerleaders and advocates, especially when it came to helping recruit prospective students and showing them around campus. She was reminded of that recently when a freshman, whom she escorted around campus on a tour as a prospective student, stopped her to talk.
"She remembered me giving her a tour last year and she came up to me and thanked me," McCarron said. "She told me that she came to Ozarks because she fell in love with the stories that I had shared during the tour about the professors and all the experiences I had. She said she wanted to have experiences and stories like that too and then she told me that she had already had those experiences during her first semester. That's what is great about Ozarks; the connections and memories you create here. And those connections and memories can begin immediately. It will be hard leaving behind the memories and people that I have grown to appreciate having around me because they represent what Ozarks is all about."
McCarron said that when she walks across the stage on Saturday to receive her diploma, it will be the relationships she's developed at Ozarks that she will be most thankful for.
"I will forever remember the relationships I have made here," she said. "I am so thankful for the professors, coaches, teammates and friends that have pushed me to be better than I originally was. I will never be able to show how much appreciation I have towards all of them for helping me strive toward my goals."
And, as if right on cue, the future occupational therapist provided another strong testament to the LENS program by quoting a symbolic line from the novel The Road by Cormac McCarthy, a book she had recently read in a class led by English Professor Dr. Amy Oatis.
"As I told Dr. Oatis, I intend to carry the fire into whatever comes next for me, and I am able to thank Ozarks for that," McCarron said. "Ozarks will always have a place in my heart as home, and one day I hope to return the favor to the place that helped me start on the path towards achieving my goals."
Topics: About, Academics, Business Administration, English, Health Science, Student Stories