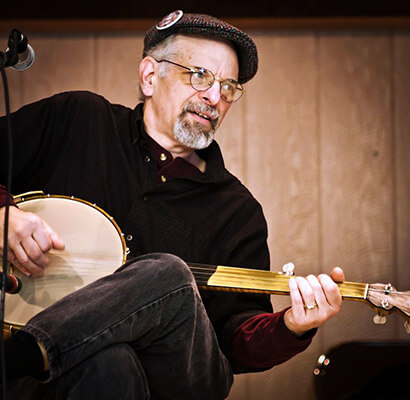 Master fiddler and banjo player Dan Gellert will present a concert on Oct. 4, as part of the 2017-18 Walton Arts & Ideas Series.
The concert begins at 7 p.m. in Rowntree Auditorium, located in the Walton Fine Arts Center. The event is free and open to the public.
Gellert has been called a "legend in the field of old time American music," by Fiddler Magazine.
Born in 1949 in New York, Gellert got inspired to learn more about roots music during the folk revival of the 1960s. He learned to play banjo, guitar, fiddle and sing lots of the old and traditional songs and tunes.
Fiddler Magazine said Gellert's fiddling is "bluesy and rhythmic and without regard for modern standards of pitch and tone. In other words, he follows his muse, which makes his music stand alone in a world of timid imitators. Not for the faint of heart, Dan Gellert is a commanding and uncompromising talent."
Gellert has been called "a storehouse of knowledge about traditional fiddle and banjo music from rural American players and early commercial recording artists of the 1920s and 30s." He has played and recorded with numerous musicians over the years, including a recording of fiddle and banjo duets with his longtime friend, Brad Leftwich.  Gellert released a solo recording in 2004, which was received with much acclaim from folk and American roots music enthusiasts.
The Walton Arts & Ideas Series is presented by the Walton Family Charitable Support Foundation. This year's series theme is "Music: The Universal Language."
iCalendar  •  Google Calendar  •  Outlook  •  Outlook Online  •  Yahoo! Calendar
Topics: Community Events