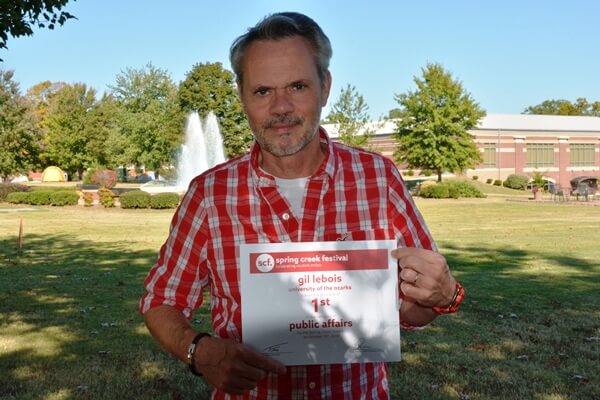 University of the Ozarks RTV student Gil Lebois took home three awards, including first place in the public affairs category, at the Spring Creek Festival, held this past weekend in Springdale, Ark.
Gil Lebois took home first place at the Spring Creek Festival in the category of public affairs with his video, "1440>Than Me."
The fourth annual festival is dedicated to supporting high school and college artists and connecting them to industry.
Lebois, of Saint Etienne, France, took top honors in the collegiate public affairs category with his short film, "1440>Than Me," which chronicled the offseason community service efforts of the football program at Clarksville High School. The video can be seen here: https://www.youtube.com/watch?v=fL6oncl4xIo
Lebois also placed second in the landscape photography category with his photo, "Glory Hole," and placed third in the music video category with "Arkansas Landscapes."
U of O students DJ Baston and Martin Trussell also attended the festival, as did the University's new vice president for advancement and director of enrollment management, Reggie Hill.
"We are proud of our program and of our students' work," said Susan Edens, assistant professor of practice of communication. "The students represented our program and our University very well at the college fair. The awards are icing on the cake and we are proud of Gil and all of our students."
The festival received more than 700 entries and awarded a total 30 prizes. High schools from throughout the region attended the event as well as college students from University of Central Arkansas, Princeton, Arkansas-Little Rock, Missouri State, Oklahoma City Community College and Chapman.
Topics: Communication Studies