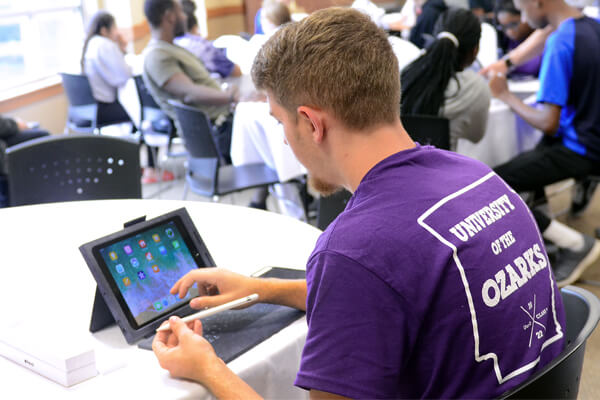 University of the Ozarks has launched a campus-wide digital learning initiative that will support and enhance teaching and learning by providing every student and faculty member with an Apple iPad.
Compass is a comprehensive student-success program that will provide universal access to a common set of learning technologies. As part of the initiative, the University has collaborated with Apple to distribute nearly 1,000 Apple iPad devices, Apple pencils and smart keyboards to its students and faculty.
Most of the students, including almost 300 incoming freshmen, received their iPad on Monday, Aug. 20, the day before classes begin for the Fall 2018 Semester. A majority of the faculty, as well as about 70 students, received their iPad in the spring, during the first phase of the program rollout.
"We believe Compass will transform the teaching and learning experience at Ozarks by creating a dynamic and integrated environment of innovation, creativity and discovery," said University President Richard Dunsworth. "Students will be able to access content in a way that supports their personal learning style and it will increase accessibility for all of our students."
The iPad devices will be used by the approximately 880 full-time students and 100 faculty and staff, including adjunct faculty, administrators and athletic coaches. The University has invested $1.3 million in the Compass initiative, which includes training seminars, equipment such as Wi-Fi-connected Apple TVs in classrooms and an enhanced wireless infrastructure for greater bandwidths and faster internet speeds.
The current students will not incur additional costs to participate in the Compass program and officials believe that future costs of the technology will be more than offset by decreasing the amount students pay for traditional textbooks and other material.
"The bottom line is that Compass will allow us to lower the direct costs students pay to attend college," Dunsworth said. "This is especially important as the University seeks to control, and in some cases decrease, the cost of attendance while also improving the educational experience."
The students will be able to keep their iPad if they complete six semesters at Ozarks. Upper class students who will graduate before the six-semester limit will have the option to purchase the iPad at a reduced cost.
Dr. Alyson Gill, provost at the University whose office coordinated the development and implementation of the program, said Compass "promotes an active learning environment in which students and faculty engage with the material and each other both inside and outside the classroom."
"We're effectively creating a classroom without walls," Gill said. "Compass will be a key driver as we support this pedagogical practice in which we move towards a student-centered learning model where students are actively involved in creating content for their courses and engaging with each other and their curriculum."
Dr. Caleb J. Keith, assistant provost for institutional effectiveness and strategic priorities, said Compass ties into the University's mission and core values.
"Compass seeks to create equity for students at University of the Ozarks by providing all learners with technology in the classroom," Keith said. "As opposed to the typical bring-your-own-device initiatives on many campuses, this program will ensure that all students have access to the same level of technology, irrespective of socioeconomic or financial background. This essentially evens the playing field for all learners, meaning everyone starts the race from the same starting line. This has a direct connection to the University's core value of justice, as it focuses on economic justice. Additionally, there is a connection to the University's mission to accept students from diverse economic backgrounds and prepare them to live life fully."
On a campus where approximately 40 percent of the students are eligible for federal grants, Keith said lowering the cost of attendance was a major driving force in the Compass initiative.
"Students will no longer have to purchases five or six traditional hard-copy textbooks or a computer," Keith said. "By utilizing open education resources (OER) and digital texts, we can actually decrease the cost students pay for course materials. However, in order to do so, all students need access to reliable technology that will allow them to engage with these resources, and that's what Compass allows us to do."
Dr. Amy Oatis, associate professor of English and a member of the Compass steering committee, was one of the professors who used the iPad in the spring—for her academic writing course.
"Faculty members are extremely excited about this program," Oatis said. "We still use a traditional writing manual in our academic writing courses, but our digital text allows students four years of online access to an updated style guide for less than the price of a print book that students might keep for only one semester. I saw students' engagement and creativity increase through the use of the iPad that I didn't see in my other classes that didn't have the devices. The convenience, efficiency and effectiveness of the technology in the classroom helps eliminate barriers and allows professors to do what they do best—build relationships with students. It allows us to be 21st Century teachers."
Oatis said she was particularly surprised about how Compass has fostered and promoted collaboration between students.
"Everyone having the same equipment really facilitated peer sharing and collaboration," Oatis said. "There was a lot of spontaneous collaboration between the students as well as between the students and faculty that was surprising. It actually enhanced communications and team-work because it is so easy to share files and projects or just comments."
Susan Edens, assistant professor of practice of communication and advisor for the University radio and TV stations, said she is looking forward to using the technology in her classrooms in the fall.
"If a professor encounters something that they think will illustrate a point in class they can capture the image or the event and easily prepare it for distribution by email, drive, or Air Drop," Edens said. "I plan to Air Drop exercises to students as they come into class, have radio production students using their iPad to record audio essays and as a transmission and mixing device for live remotes and have my students in media law and ethics listen to the landmark decisions by the U.S. Supreme Court and read the summaries."
Officials said there will be several training and workshop opportunities for faculty and staff throughout the school year, including a weekly noon event at the on-campus coffee shop that Oatis coordinates called Appy Hour.
"We wanted a place where students, faculty and staff could come together and share stories, best practices or their favorite educational apps," Oatis said. "We started Appy Hour in the spring and it was really well-received by the entire campus community. I love how students and faculty who might not normally encounter each other are able to collaborate. Everyone is excited about the opportunities and possibilities that are out there. They really are limitless."
Topics: About, Academic Support, Academics, Media Production, Student Events, Student Life